Goldman Says Hedge Funds Dove Right Back Into Tech at Rout's End
(Bloomberg) -- The crowd has yet to disperse.
At the end of the worst month in seven years, hedge funds showed few signs they've soured on the technology and consumer stocks at the heart of the sell-off. The opposite, in fact: Goldman Sachs data show those groups were the most heavily bought in the last five days of October.
Client notes from a handful of prime brokerages shed light on how much trauma was endured by big traders during October's downdraft, in which the S&P 500 slid 6.9 percent. To date, while data suggests they yanked leverage as stocks fell, there's scant evidence the carnage has altered their opinion on which stocks to own.
This can be viewed bullishly -- investors stuck to their guns amid a market trauma -- or as a bearish indication that the excesses that predated the sell-off haven't unwound. For its part, Goldman notes the situation is similar to January 2016, when funds loaded up on technology and health-care stocks after a market correction.
Last week, anyway, the decision bore fruit. "Funds managed to claw back 201 basis points on the last day of the month, which turned out to be the best one-day alpha return since we started tracking this data in January 2012," Goldman's note said. The Nasdaq 100 Index is down slightly since the start of November.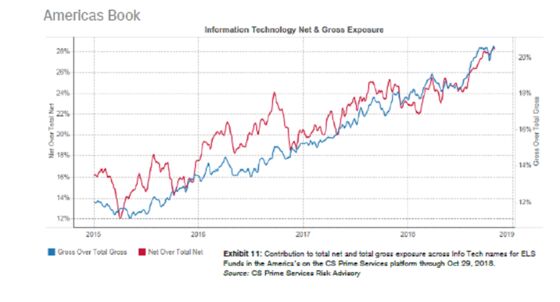 Research from another firm, Credit Suisse, painted a similar if not identical picture. Positioning in technology shares was "relatively static" amid the selloff, perhaps reflecting switches in a defensive stance earlier in the year, as well as the cushion from a "consensus short in semiconductors." Managers stuck with "their core Internet retail longs, ending material mark-to-market losses," while exposures fell in communications services.
Through Oct. 25, Credit Suisse said, "market moves, not portfolio unwinds," accounted for most of the deleveraging by its clients. That changed as long-short managers began selling at the end of the month, "supporting the notion of deleveraging where both longs and shorts are reduced."
The findings are at odds with JPMorgan, whose strategists said the performance by hedge funds suggests they just raised equity exposure from low levels. Specifically, they found the the HFRX Equity Long/Short Hedge Fund index last week showed higher beta, or volatility to the S&P 500, than they did in the previous two weeks.
That's "pointing to some buildup of their equity positions," strategists led by Nikolaos Panigirtzoglou wrote in a note last Friday.
Hedge funds don't always stick to their darling stocks. Goldman observed that in October 2011, money managers abandoned tech and consumer discretionary shares in favor of banks and staples.