Goldman Says Commodities Won't Repeat 2015 Crash as China Slows
(Bloomberg) -- China's embattled commodities sector will escape a 2015-style price collapse, according to Goldman Sachs Group Inc., which says producers in the world's top supplier are in better shape to cope with demand that's ebbing on all fronts.
Following a three-year rally in prices, China's basic materials sector "will be tested again in the year ahead," analysts including Trina Chen wrote in an emailed note. The bank cut its 2019 forecasts for materials including steel, copper and aluminum, citing worse-than-expected demand from manufacturing. For steel, Goldman is forecasting a near-5 percent slump in demand.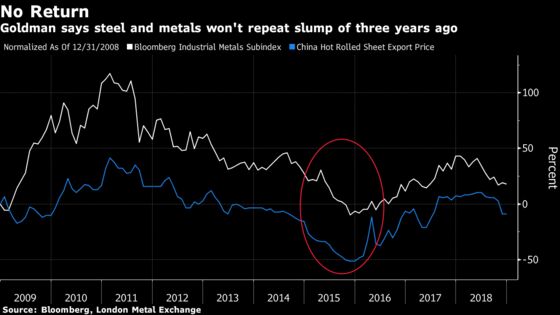 "However, we do not think it will be another 2015, as we forecast most sectors to be profitable, underpinned by the improved balance sheets and supply discipline that protects the structurally higher capacity utilization," they wrote.
The reference to 2015 speaks to fears that a slowdown in Chinese demand could trigger the kind of price rout that plunged commodities companies into a crisis late that year. The broad recovery since then has been aided not only by a reboot of property and infrastructure spending, but by plant closures and supply reforms that should mean output adjusts more readily to changes in demand.
The bank has been broadly positive on industrial commodities in recent months, arguing that China's trade war with the U.S. has affected sentiment more than real demand. In August, Goldman said Chinese steel stocks could rally as much as 70 percent in the case of top producer Baoshan Iron & Steel Co., on expectations of winter supply curbs and infrastructure spending.
Goldman's report, titled '2019 outlook: challenged, retested, repriced', also said:
Lower local government spending on infrastructure will be the biggest single contributor to falling steel demand, accounting for about two thirds of the weakening
Bank sees 6.9 percent fall in new floor space under construction, 2.3 percent drop in appliances output, and a 10 percent slump in machine tools
Demand for copper, aluminum, paper and coal will be flat versus 2018
From an equities point of view, Goldman most prefers steel companies, followed by coal and cement
Maintains buy on Baoshan, but reduces 12-month target to 10 yuan from 13.5 yuan. Company last traded at 6.85 yuan.