Goldman Sachs Says U.S. Political Policy Making Oil Volatile
(Bloomberg) -- U.S. political decisions are helping make volatility the new normal in the global oil market and muddying the outlook for prices, according to Goldman Sachs Group Inc.
The potential release of crude from America's emergency supplies, signs that Saudi Arabia is responding to increased pressure from President Donald Trump to pump more, and rising uncertainty over the timing of a potential drop in Iranian exports due to renewed U.S. sanctions means changes in production will be exacerbated by decisions made in the White House, Goldman said.
"The uncertainty on the magnitude and timing of these shifts has muddied the near-term outlook for oil fundamentals," analysts including Damien Courvalin wrote in a note dated July 16. "We believe that price volatility is set to remain elevated as the market grapples with these large and uncertain supply shifts."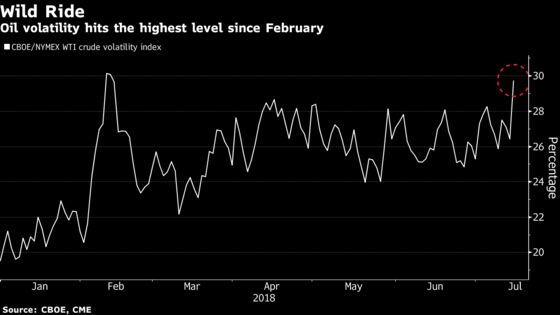 Goldman's warning coincides with already soaring volatility. After briefly topping $80 a barrel just two months ago, global benchmark Brent crude has tumbled almost 10 percent as investors assess escalating trade tensions between the U.S. and China and a plan by OPEC and its allies to raise output. Meanwhile, fears over a supply crunch following disruptions from Canada to Venezuela and renewed American sanctions on Iran has been driving bulls in the market.
The Trump administration's sudden focus on oil prices has been interpreted by political commentators as aimed at reducing U.S. gasoline prices ahead of American mid-term elections in November, Goldman said. The timing of the decline in Iran's oil exports has become more uncertain after officials did an about-turn over whether to grant waivers for sanctions, it said.
"With both the loss of Iran exports and increase in Saudi production politically planned by the U.S., it is conceivable that their sequence or scale would be managed to drive oil prices lower," the analysts wrote. "Given this increased fundamental uncertainty, we expect Brent prices to trade in a $70-$80 a barrel range with increased volatility and risks skewed to the downside in the short term."
While the bank's analysts still expect Brent prices to retest $80 a barrel, that will come later than their previous forecast because of the U.S. oil policies. More broadly, the level of inventories, which won't rise to above-average levels, will be the most important driver for returns in coming months, according to Goldman.
Brent crude futures were little changed at $71.74 a barrel on the ICE Futures Europe Exchange at 11:33 a.m. in London. Prices on Monday had dropped 4.6 percent to settle at $71.84 a barrel.