Emerging Markets May Have Bottomed, Goldman Sachs Says
(Bloomberg) -- Emerging-market assets may have bottomed last month and the rally seen in July is likely the start of a more sustained rebound through the second half of this year, according to an analysis by Goldman Sachs Group Inc.
Moves in 2018 don't stand out as being unusual when considered against history, Caesar Maasry and Ron Gray wrote in the report. Growth data, usually a better indicator than valuations, has shown recent signs of stability, they concluded. These are their key recommendations:
Latin American equities and currencies
Preference for high-yield debt relative to emerging-market credit, tipping Mexico, Lebanon and Egypt
Best local bond markets include Brazil, Peru and Colombia, where yield curves are relatively steeper
All South African assets are favored except equities
Recommends avoiding Turkey's local bond market, citing significant political risks
Keeps underweight on Asian equities, while trade tensions with the U.S. remain high
There's been a growing group of prominent strategists and asset managers willing to allocate additional funds to emerging markets after a rout in the second quarter. Goldman says calling the low point is a "daunting task" and getting the timing wrong can be painful.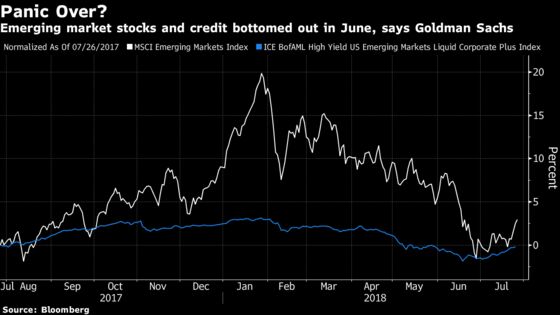 The recent retreat isn't out of the ordinary, Goldman found in its analysis going back to 1988. The median annual drawdown for equities over that period has been around 19 percent and 9 percent for foreign exchange. In that time, a typical sell-off results in a 130 basis point increase in credit spreads and a move wider of 80 basis points in local rates.
"EM assets tend to be volatile and these sorts of corrections happen every year," Maasry and Gray, analysts at the investment firm, wrote in the report. "The moves this year are well in line with the historical playbook."
Whether it's the right time to plunge back into emerging markets varies by asset class, they concluded. Typically it's more painful being early in equity or currency trades, they said, while credit markets offer a better trade-off between risk and reward.
"The strategy of calling a bottom on a stabilization of prices alone is unlikely to be a winning strategy, especially since the risk of mis-calling the bottom and facing the sharp drawdown that typically comes in the last month can be extremely painful," the report said.