Goldman Sachs Says European Stock Market Rally Is Far From Over
The record-setting rally in European stocks has further to run, according to Goldman Sachs strategists. 
A combination of low interest rates, resilient earnings recovery and cheap valuations will drive a total return of 13% for the Stoxx Europe 600 Index next year, according to Goldman. 
"We retain a positive outlook on European stocks for 2022," strategists led by Sharon Bell said in a note on Thursday. "Despite record returns, Europe equity now looks cheaper than at the outset of 2021" and "represents good value versus the U.S. and excellent value versus other assets."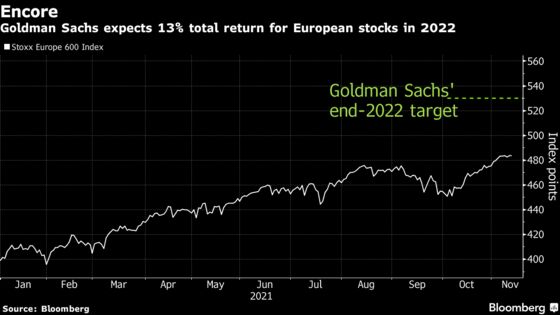 Even after reaching numerous record highs and rising 21% this year, European equities trade at a steep discount to the U.S. market, with a forward price-to-earnings ratio of 16 compared to the S&P 500's 21 times. The region's stocks have benefited from the economic reopening thanks to their hefty exposure to cyclical sectors, such as banks and automakers. 
The Stoxx Europe 600 could be on course for its best year since 2009, based on annualized returns, with nearly 25% gains, beating the 23% rise of 2019. Goldman's end-2022 target for the benchmark is 530. 
European earnings have been resilient to rising inflation and supply chain problems, according to Goldman strategists, who note that margins are probably at their peak now. Earnings per share growth will slow down significantly next year to 6% from this year's over 60% boom, they said. 
As for the sector exposure, the strategists recommend a more selective approach in 2022, opting for a so-called "barbell" strategy, which includes a mix of value and growth stocks. In addition to technology, the strategists favor cyclical industries like banks, energy and industrials, while heath care is their main defensive play. Renewable stocks are also tipped to benefit from rising capital spending and fiscal stimulus, they said.