Goldman Sachs Clients Favor European Stocks as U.S. Risks Grow
Goldman Sachs Group Inc. clients joined the chorus of bullish calls for Europe, forecasting that the region's stocks will outperform this year as the outlook for U.S. equities dims. 
The firm surveyed the audience at its 30th annual global strategy conference this week, attended by more than 3,000 clients from around the world, according to a note. When asked which equity region will perform best in 2022 in local currency terms, Europe attracted the most votes with 36%, up from 21% last year.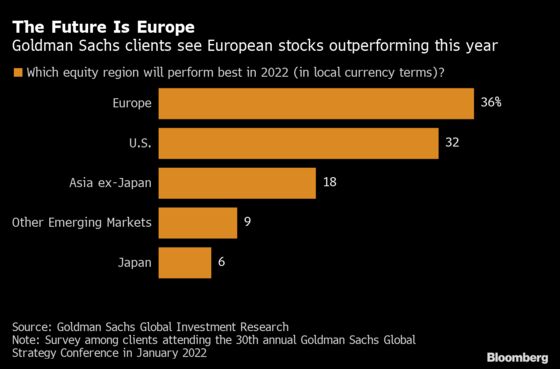 The results echo the views of Goldman's own equity strategists, who have said that European stocks are a good place to seek shelter as interest rates rise. Morgan Stanley's strategy team agrees, citing Europe's less stretched valuations. 
Sanford C. Bernstein strategists are tactically overweight Europe on a one-year horizon, saying the U.S. is more vulnerable to rising bond yields and that the earnings gap between the two regions is narrowing.
While some strategists have been betting on Europe's outperformance for years thanks to cheaper valuations and a more cyclical market, these calls have rarely come true. The region's equities have trailed the U.S. for the best part of the last decade, with U.S. stocks defying concerns about stretched levels.
However, during the latest turmoil fueled by fears of higher bond yields and rates, the Stoxx Europe 600 index has fared better than the U.S. market, where technology shares have come under pressure. 
"We believe the risks are growing in the U.S. on a relative basis. While valuations in most markets, such as Europe, Japan and EM, have come down this year, only the U.S. looks increasingly expensive," Goldman strategists including Guillaume Jaisson said in a note on Wednesday. "The unusually high concentration of stocks within the S&P leaves it more vulnerable to pressures coming from antitrust regulation or higher bond yields."
Not everyone shares the optimism about Europe's prospects, with HSBC Holdings Plc's Max Kettner preferring U.S. over euro-zone small caps, and U.S. over euro-zone banks. 
Also, the survey of Goldman's clients at its annual conference doesn't have the best track record. Last year, the audience said Asia ex Japan would outperform, while it turned out to be "one of the worst performing investments," Goldman strategists said.