Goldman Likes Stocks That Go Their Own Way for 2019
(Bloomberg) -- With risks ranging from U.S.-China trade talks to European politics and the American government shutdown, investors may be best off picking stocks with their own individual stories, according to Goldman Sachs Group Inc.
"Elevated uncertainty supports owning stocks with strong idiosyncratic growth
and limited dependence on the path of economic activity," Goldman strategists led by David Kostin advised in a note dated Jan. 18. The team prefers information-technology and communication-services sectors, citing low historical correlation with economic growth.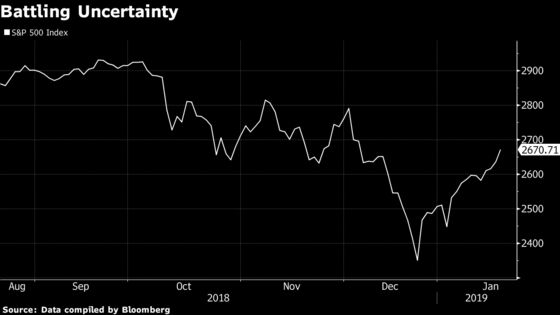 Stocks have been whipsawed in recent months by developments in the U.S.-China trade war, the global economic slowdown and outlook for further Federal Reserve tightening, alongside pockets of political unpredictability from Italy to the U.K. to the U.S. The S&P 500 has risen or fallen by more than 1 percent in each of the last 13 weeks as investors have tried to figure out market direction.
"Our year-end target of 3,000 for the S&P 500 represents a 14 percent return, the strongest across regions," the strategists wrote. "However, an environment of slow and decelerating growth means little buffer for additional negative shocks."
Among U.S. stocks the Goldman team likes are Five Below Inc., Amazon.com Inc. and Lumentum Holdings Inc. Non-American picks include ASOS Plc, New Oriental Education & Technology Group Inc., Globant SA and JD.com Inc.