Goldman Names 69 New Partners as CEO David Solomon Reins in Promotions
(Bloomberg) -- Goldman Sachs Group Inc.'s new chief went back to elevating the firm's core moneymakers.
Traders and investment bankers made up 71 percent of the firm's latest partner class, the highest proportion in at least eight years. The back-office staff and asset-management division bore the brunt of a decline in the overall size in the class.
David Solomon, who took over as chief executive officer last month, has been pushing to shrink the size of partner classes, according to people briefed on the matter. Solomon wants to keep the ranks elite, and Goldman has been hiring more partners from outside the bank in the past year.
"The partner class of 2018 is smaller than in recent years, highlighting the aspirational nature of the partnership," Solomon and President John Waldron wrote in a statement Wednesday.
In its biennial promotions that serve as a nod to the bank's history as the last major private firm, Goldman Sachs elevated 69 employees to partner, down from the 84 appointed in 2016.
Recent partner classes had acknowledged the growing ranks and importance of the firm's administrative arm, known internally as the Federation. Those employees -- including workers in technology, legal and compliance -- made up 18 percent of the 2016 class, but that fell to 13 percent in this year's promotion.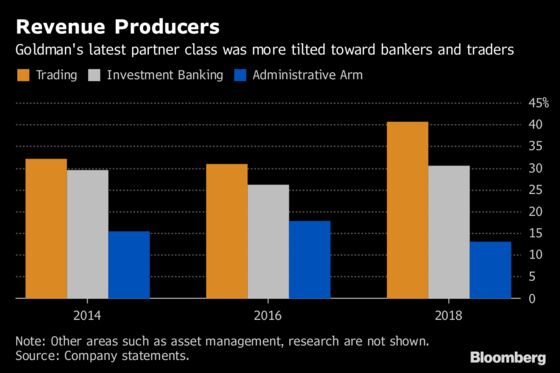 Solomon is replenishing the top ranks of the firm after a wave of senior departures in the wake of the first CEO handoff in more than a decade added to typical turnover. More than a third of the bank's partners in 2014 have since left, and half the company's management committee has turned over in that time.
Solomon's stated push to improve the firm's diversity is also evident in the class as the proportion of women and black employees both hit records. Still, at 26 percent, the representation of women in the partner class trails the firm's broader population.