Goldman Joins JPMorgan in Calling Growth Concerns Overdone
(Bloomberg) -- Wall Street strategists kept trying to calm equity investors, saying their worries over the economy are overdone.
JPMorgan argued that the risk of an economic recession is "overpriced" with the latest stock sell-off. Goldman Sachs has similarly soothing words. The decline in U.S. stocks has opened up a rare divergence between the market's performance and economic data, an indication that fears over a growth slowdown have gone too far, according to strategists led by David Kostin.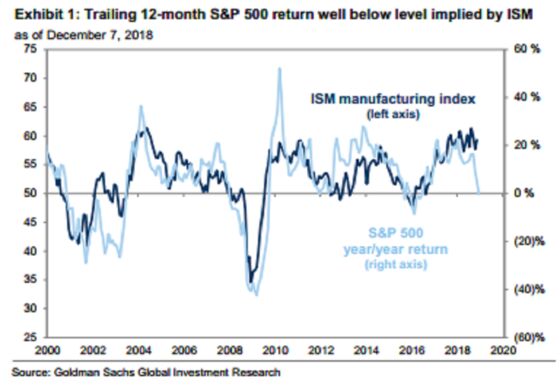 The S&P 500's return over the last 12 months has turned negative for the first time since 2016, something that has historically corresponded to a reading of 50 in the Institute for Supply Management's manufacturing index, or stagnant growth, Goldman data showed. By contrast, the factory gauge rose to 59.3 last month, a sign of healthy expansion.
From gross domestic product to corporate earnings, there is little doubt that growth will decelerate next year without the boost of tax cuts. The question is, by how much? Based on Goldman's model, the market is predicting zero growth. That contrasts with expected GDP growth of 2.5 percent next year expected by the firm's economists.
"Recent equity market performance implies a more dramatic slowdown than our baseline," Goldman's Kostin wrote in a note published late Friday. "Accordingly, we believe there is short-term upside to the S&P 500."
The benchmark index fell 1.7 percent as of 11:16 a.m. in New York, poised for the lowest close since April. Down 11 percent from its record reached in September and more than 2 percent since the start of January, the S&P 500 is mired in its second correction of the year and poised for its worst annual performance since the bull market started in 2009.
Goldman's view is shared by the majority of Wall Street forecasters, who expect continued profit expansions to propel stocks to new highs. In a survey conduced at the end of November, their average estimate is for the S&P 500 to climb to 3,056 by the end of next year. That's roughly a 17 percent increase from recent levels.