Goldman, BNY Mellon Join ESG-Fund Stampede With Four New ETFs
(Bloomberg) -- The furious pace of green-fund launches in the U.S. ETF industry showed no sign of easing Wednesday, with Goldman Sachs Asset Management and BNY Mellon Investment Management announcing four new products between them.
The Goldman Sachs ActiveBeta Paris-Aligned Climate U.S. Large Cap Equity ETF (ticker GPAL) will track an index that aligns with the goals of the Paris Climate Agreement. 
The BNY Mellon Sustainable US Equity ETF (BKUS) will invest at least 80% of its net assets in U.S. companies that demonstrate sustainable business practices. The BNY Mellon Sustainable International Equity ETF (BKIS) will focus on companies outside the U.S., and the BNY Mellon Sustainable Global Emerging Markets ETF (BKES) will invest a majority of its assets in EM.
Asset managers have pounced on the opportunity to launch green funds as assets in ESG ETFs skyrocket. On Tuesday, JPMorgan debuted its Climate Change Solutions ETF (TEMP). Last week, Ark Investment Management debuted an index-tracking ETF (CTRU) that shuns industries including alcohol, banking, gambling, oil and gas.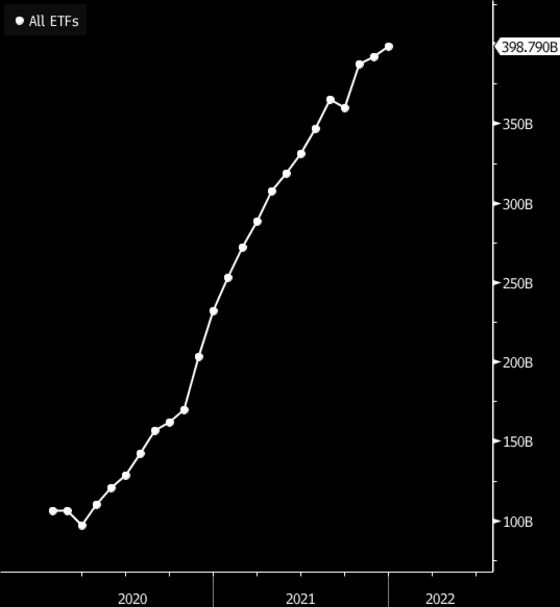 "As investors and advisers continue to seek out innovative ways to invest for long-term growth while also driving meaningful change across a variety of ESG-related initiatives, the demand for fully transparent, actively managed investment strategies has grown, specifically within ETFs and sustainable solutions," said Andy Provencher, head of North America distribution, BNY Mellon Investment Management.
Newton Investment Management will sub-advise BNY's three new ETFs. The launch brings the total number of active ETFs BNY Mellon has debuted in 2021 to five.