Gold's Rally Deserves Canadian Investors' Attention, CIBC Says
(Bloomberg) -- Gold's bullish run after the 2008 financial crisis seems to be repeating itself and can no longer be ignored by Canadian generalist investors, CIBC said in a note.
At the start of the 2008 recession, the price of gold and silver initially fell before rising to an all-time high. Now, as metal prices recover from their most recent losses, CIBC analyst Anita Soni said they could be on track for another record if the 2008 playbook holds true.​
Precious metals now represent 10.5% of the S&P/TSX Composite Index, "a level that we don't believe the Canadian generalist can continue to ignore," she said.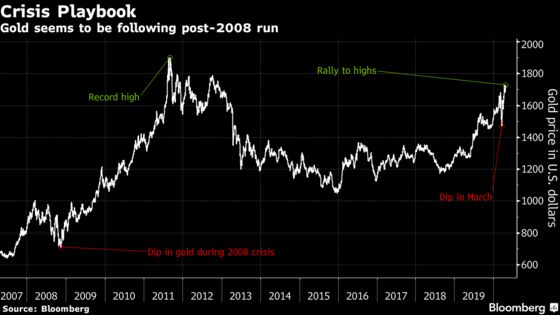 Completely recovered from its plunge in March, the price of gold is now near the highest since 2012 at $1,728 per ounce as governments around the world announce new stimulus measures. The price action appears to be heading in a direction similar to 2008, when quantitative easing led gold prices to hit an all-time high of $1,900 per ounce.
"If the 2008-2011 global financial crisis is any indicator, the outlook for gold in a QE environment is very positive," Soni said. She thinks real rates will likely remain under pressure for a few years and devaluation of currency will become a "growing concern."
Soni raised her gold price forecast to $1,725 for 2020 and $1,800 in 2021, from previous forecasts of $1,600 per ounce in each year. She also raised her 2022 price forecast to $1,600 from $1,500 and kept her long-term price estimate at $1,400 per ounce.
Her top picks heading into the first quarter of earnings include Agnico Eagle Mines Ltd., Alamos Gold Inc., B2Gold Corp., Barrick Gold Corp., Franco-Nevada Corp., Kirkland Lake Gold Ltd., Newmont Corp., Osisko Mining Inc., Pan American Silver Corp., SSR Mining Inc. and Wheaton Precious Metals Corp.