Gold Advances Amid Weaker Dollar, Disappointing U.S. Labor Data
(Bloomberg) -- Gold rose to the highest in a week as investors sought haven after a labor report pointed to an uneven recovery in the U.S. jobs market.  
Applications for U.S. state unemployment benefits unexpectedly rose for a third straight week, led by another surge in California. The dollar fell after the report, boosting bullion's appeal for investors holding foreign currencies.
A worsening labor market could push the Federal Reserve to delay reducing stimulus, which cushioned the economy from the worst effects of the pandemic and sent bullion prices to a record last year. 
Bullion "really depends on the dollar and yields now," said Daniel Pavilonis, senior market strategist at RJO Futures.  The precious metal and silver are also helped by "some short covering" after a selloff Wednesday, he added.
Still, gold is on course for its biggest monthly loss since June with precious metals pressured by the prospect of a pullback in stimulus measures.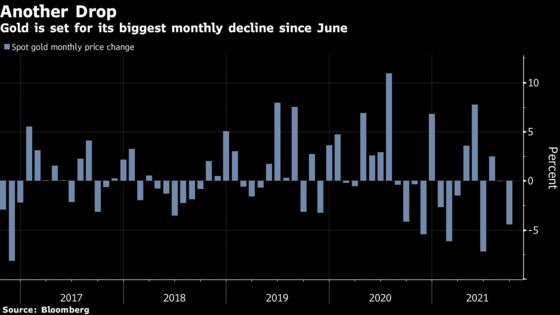 The Senate passed a stopgap spending bill aimed at averting a federal government shutdown this Friday on a bipartisan 65 to 35 vote. The House is expected to pass the measure and send it to President Joe Biden for signature before the midnight deadline. Uncertainties still remain on the political front, and the threat of a U.S. government default is less than three weeks away.  
Spot gold rose as much as 2.2% to $1,764.26 an ounce, the highest intraday level since Sept. 23, and was trading at $1,755.88 as of 2:21 p.m. in New York. Bullion for Dec. delivery rose 2% to settle at $1,757 on the Comex. Silver was up 2.7% at $22.12 an ounce, after tumbling on Wednesday to the lowest since July 2020, with prices down more than 7% this month. Platinum and palladium advanced, though both are set for a fifth straight monthly loss. The Bloomberg Dollar Spot index fell 0.2% after four days of gains.