Gold Refuses to Shine for Investors in Search of a Haven
(Bloomberg) -- So much for gold's time to shine.
The precious metal sank to its lowest level in more than 19 months on Wednesday, even as global equities came under pressure.
Bullion is a presumptive beneficiary of the safe-haven flows that typically accompany equity market retreats. But its recent behavior shows it's been anything but a reliable hedge for a portfolio of risk assets.
The weekly swings in gold and the S&P 500 Index are now nearly the most positively correlated in five years, meaning the two assets have tended to move in the same direction. On a rolling 13-week basis, the metal is also the most negatively correlated with the Cboe Volatility Index -- often referred to as Wall Street's "fear gauge" -- in more than five years.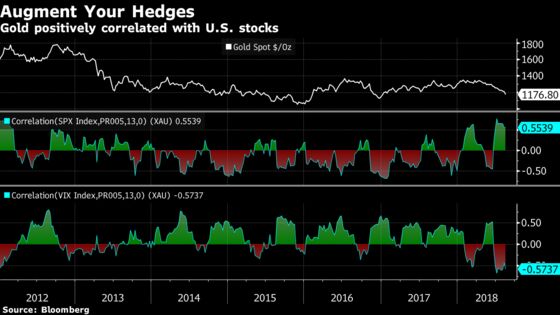 "Gold wears many hats," said Cantor Fitzgerald global chief market strategist Peter Cecchini, noting that it fell in tandem with equities in 2008.
In this instance, one of the causes of market angst -- the turmoil in Turkey's lira and other emerging-market currencies -- is keeping bullion from serving as an effective hedge, he reckons.
"Gold has likely been for sale as EM central banks look to monetize dollar reserves to support local currencies," Cecchini wrote in a note on Wednesday, saying the precious metal is likely to head lower from here.