Gold Now Has a Challenger for the Mantle of Most-Precious Metal
(Bloomberg) -- The scramble for palladium supply has taken the precious metal within striking distance to its costliest cousin -- gold.
Palladium, used as an autocatalyst in gasoline-fueled vehicles, climbed to a record for a fourth time this month as users of the precious metal compete for limited supply. Investors continue to pull the commodity from exchange-traded funds, taking holdings to the smallest in almost a decade. The cost to borrow the raw material for a month climbed to more than triple the yield on 10-year Treasuries.
"This is a very tight market, there's not enough supply for the number of buyers right now," Daniel Ghali, strategist at TD Securities in Toronto, said in a telephone interview. "As tight as it is, it takes very little to move this market" because of the thin volume traded, he said.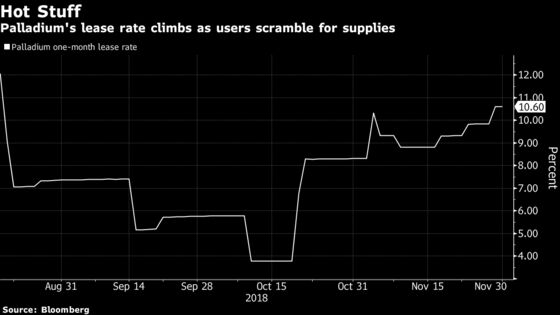 Palladium for immediate delivery climbed as much as 1.8 percent to a record $1,204.71 an ounce on Friday, before settling at $1,181.09, according to Bloomberg pricing. Spot gold closed at $1,220.52. An ounce of the yellow metal bought as little as 1.013 ounces of palladium, the least since 2002.
In the futures market, palladium for March delivery fell 0.6 percent to settle at $1,144.60 an ounce on the New York Mercantile Exchange. Gold for February delivery closed 0.4 percent lower at $1,226 an ounce on the Comex, with dollar strength exerting downward pressure on the commodities.
Hedge funds and other large speculators boosted their net-bullish position in palladium for a fourth straight week to 13,824 futures and options, according to data from the Commodity Futures Trading Commission published Friday. That was the most since March.