Gold Mining ETF Sees More Turnover Than Any Other U.S. Fund
(Bloomberg) -- Exchange traded fund investors are mining for precious metals.
The $11 billion VanEck Vectors Gold Miners ETF, ticker GDX, saw trading volume spike to its highest in two months Tuesday. About 90 million shares worth over $2 billion exchanged hands, double the fund's usual volume and more than any other U.S. ETF that day. GDX is the largest materials ETF and tracks corporations that are primarily involved in mining gold and silver.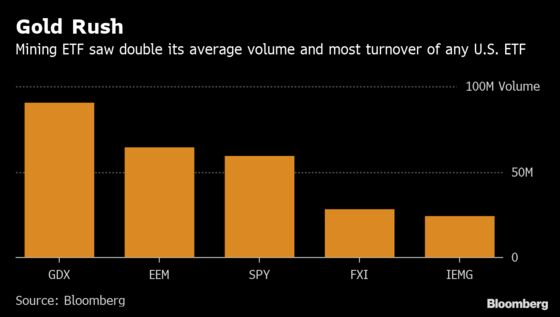 The price of gold has climbed more than 12 percent in the six months through Wednesday, extending its late-2018 rally while equities remain volatile after a rough end to 2018. The precious metal offers a potential hedge against global political uncertainties like the U.S.-China trade war. Bullion is also bolstered by continued signs of flexibility from the Federal Reserve. As the prices surge, investors are placing bets on just who the biggest winners will be: mining companies.
"When the price of gold goes up by 11 percent in a very short period of time, a lot of that falls right to the bottom line and increase profitability and margin," said John Ciampaglia, the chief executive officer of Toronto-based Sprott Asset Management. "That obviously translates to tremendous operating leverage for the gold mining companies.''
The fund's heaviest weightings reflect companies across the globe -- Newmont Mining Corp. in the U.S., Barrick Gold Corp. and Franco-Nevada Corp. in Canada and Newcrest Mining Ltd. in Australia -- but consist mainly of Canadian companies.
Newmont Mining buying rival Goldcorp Inc. in January, just three months after Barrick Gold announced plans to buy Randgold Resources Ltd., has also reignited the M&A cycle in the gold mining sector, according to Ciampaglia.
ETFs tracking precious metals have bled about $930 million this month through Tuesday, putting them on track for the first month of outflows since September. Materials ETFs saw outflows in January, but have experienced significantly less outflows than precious metals this month -- dropping around $212 million.
"There's probably some thinking that gold miners themselves are more levered than the actual commodity is," said Tony Roth, chief investment officer at Wilmington Trust Investment Advisors. "It's a good way to play the gold trade on a higher beta basis."