Gold Heads for Biggest Weekly Advance Since 2008 After Squeeze
(Bloomberg) -- Gold headed for the biggest weekly advance since 2008, rallying along with risk assets including equities, as investors weighed up the impact of massive monetary and fiscal stimulus for virus-hit economies and disruptions in the physical bullion market that have roiled trading.
The store of wealth is in demand as the outbreak spreads and investors seek havens from the damage, which has led to the flood of support from central banks and governments. The rush for bullion has come when supply channels are being strangled, with some refineries shutting down and flights halted. That's limiting sellers' capacity to meet commitments to deliver the metal.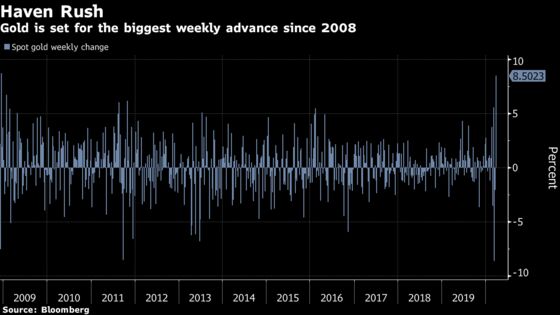 The disruptions led to uncertainty if there was enough gold available in New York to deliver against contracts on the Comex, exploding the spread between futures and spot prices in London. Peak tightness may be easing amid signs investors are rolling April contracts to June, which saw open interest jump to 345,689 contracts, from 151,828 on March 9, according to initial data compiled by Bloomberg.
Thursday's total for the April contract is the equivalent of 5.8 million ounces, indicating there's enough gold in warehouses tracked by Comex that can be used to settle contracts.
"Headlines have popularized the worries about the ability to buy and deliver physical gold and spreads have blown out," RBC Capital Markets said in a note. "These concerns are, in many ways, justified, but more so if we begin to see more complete shutdowns throughout the supply chain."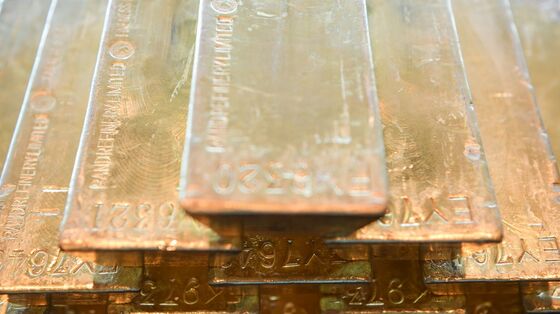 Key players in the global market are working together to facilitate physical delivery, albeit while many dealers of bars and coins are reportedly out of stock, RBC said. While these concerns are likely adding to exaggerated price moves, gold-positive conditions are not over, it said.
Spot gold was at $1,624.30 an ounce at 6:52 a.m. in London, set for a weekly gain of 8.4%, while the Bloomberg Dollar Spot Index is 3.5% lower.
The spread between London prices and New York futures has narrowed considerably. On Friday, the disparity was about $22 an ounce, compared with more than $60 earlier in the week.
Among signs of difficulties in market, the African continent's only gold refiner -- South Africa's Rand Refinery Ltd. -- has stopped shipping bullion to London because of a lack of commercial flights.
Gold's role as a haven is gaining greater traction as more evidence emerges of the economic pain caused by the pandemic. A total of 3.28 million people filed for U.S. unemployment insurance in the week to March 21, more than quadruple the prior record. Many economists say the country is entering a sharp recession.
"Record number of jobless claims in the U.S. is very positive for gold going forward and expectations of further stimulus should drive prices sharply higher again," said Gnanasekar Thiagarajan, director of Commtrendz Risk Management Services. "There is also supply tightness in the near-term that could drive prices higher."
Other main precious metals also jumped this week: silver rose 15%, platinum climbed 22%, and palladium surged 46%. Supply concerns are growing for the two platinum group metals as mines shut down in South Africa during a lockdown.