Gold Gets Taken for a Ride After Fed Comments
(Bloomberg) -- Gold traders can be forgiven for feeling a bit queasy as efforts to parse economic signals from the U.S. Federal Reserve put them on a roller-coaster ride.
The metal jumped on Wednesday after the Fed said in a statement that it kept its benchmark U.S. rate unchanged and lowered the interest paid on reserves deposited with the central bank. Low rates are a boon to gold, which doesn't pay interest.
Those gains evaporated minutes later, when Fed Chairman Jerome Powell said low inflation may be transitory, and that risks to the outlook appear to have "moderated somewhat," bolstering the dollar and sapping demand for the metal as a haven. Spot bullion erased gains, falling as much as 0.8 percent.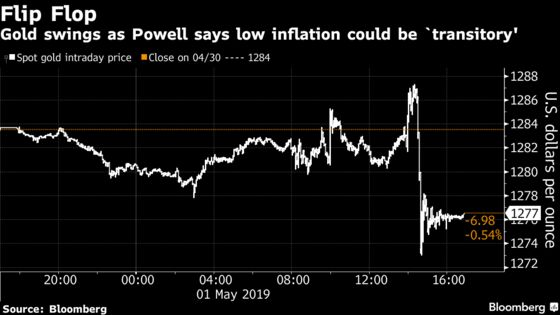 "What a tease," Tai Wong, head of base and precious metals derivatives trading at BMO Capital Markets, said by email. "Powell's comment that a drop in core inflation was 'unexpected' and 'transitory,' and risks abroad moderated, sends gold $7 lower, erasing the $4 gain."
Gold for immediate delivery slipped 0.5 percent to settle at $1,276.76 an ounce on Wednesday. Prices have fallen for three straight months as a strong dollar, rising global equities and optimism over U.S.-China trade talks reduced the appeal of the metal as a haven.