Gold Fields Shuns South Africa Exit on South Deep Turnaround
Gold Fields Ltd. won't be rushing to join AngloGold Ashanti Ltd. in exiting South Africa after its last mine in the country returned to profit last year.
The South Deep operation generated $15 million of net cash in 2019 after a decade of losses. Profitability will improve this year as output climbs at the mine that sits on the world's second-biggest known body of gold-bearing ore. For Chief Executive Officer Nick Holland the mine has the potential to be a "shining light" for a South African gold industry in terminal decline.
"We have a responsibility to the country in making this big resource viable," Holland told reporters in Johannesburg on Thursday. "What kind of message do we send to the country if we throw in the towel?"
The nation's gold sector has shrunk to less than a fifth of the size it was at its peak and its importance to the economy is rapidly diminishing. The industry has become expensive and dangerous as often unprofitable mines extend miles underground.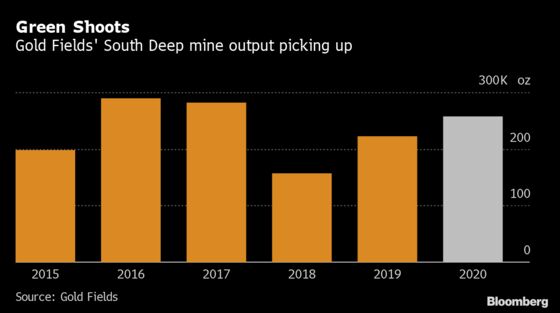 Gold Fields, founded by Cecil John Rhodes in 1887, has come under pressure from investors over previous losses at South Deep. Like AngloGold, the company has focused on more profitable mines in the Americas, Australia and West Africa. But while its rival is selling its last remaining South African assets to Harmony Gold Mining Co., Gold Fields is keeping its options open.
"One thing I can rule out is a fire sale," Holland said. "We want to do something out of a position of strength."
Instead, Gold Fields has cut costs by reducing its workforce and is reviving a plan to open up new areas to boost output and improve grades, the CEO said. That will give Gold Fields at least another year to assess its options, he said.
Gold Fields expects production at South Deep to rise 16% to 257,000 ounces this year. Under the original plans for the mine, output was envisaged to climb to 800,000 ounces at full production.
"They expect further improvements on the back of the various initiatives they have undertaken at the mine over the past year, while the rand gold price should further help to improve margins," said Arnold van Graan, an analyst at Nedcor Securities Ltd.