Gold Rebounds as Dollar Gains Ebb, Investors Reassess Fed Shift
(Bloomberg) -- Gold erased declines as the dollar slipped, with investors assessing the extent of the Federal Reserve's hawkish tilt on Wednesday.
Federal Reserve policy makers, in a statement at the end of their two-day meeting, shifted to an earlier end of their asset-buying program and signaled a faster pace of interest-rate increases. 
Bullion, which has slipped in recent weeks on concern over diminishing monetary support from central banks, regained its footing after an initial sell-off on the Fed signals. The dollar should see short-term pressure to the downside after the Fed statement, as "they've only really included one extra hike over horizon," according to CIBC.
"The gold market recovered from the initial decline, as the Fed seems to be only marginally more hawkish than the market was pricing," said Bart Melek, global head of commodities strategy at TD Securities.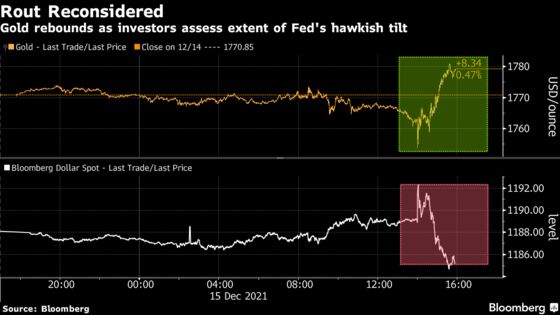 Projections published alongside the statement showed officials expect three quarter-point increases in the benchmark federal funds rate will be appropriate next year, according to the median estimate. The Fed has kept its benchmark rate steady after sweeping into emergency action amid the coronavirus pandemic in March of last year with a full percentage-point cut.
"The dots have moved and it seems the gold market believes that inflation will be elevated, but controlled, which should allow the U.S. central bank to maintain accommodation," said TD's Melek. "Real rates will move higher, but still very negative along the short end of the curve. It's still a decent environment for gold. Some traders may have been positioned for something more hawkish." 
Fed Chair Jerome Powell said at his press conference that as wave upon wave of Covid has hit the U.S. economy, the population has increasingly learned to live with it and people are getting vaccinated.  "It's not clear how big the effects would be on either inflation, or growth or hiring."
Spot gold rose 0.3% to $1,776.58 an ounce at 3:24 p.m. in New York. Bullion fell as much as 1% in the immediate aftermath of the release of the Federal Open Market Committee statement.