Gold Coins Fly Off the Shelf at the Perth Mint as Prices Drop
(Bloomberg) -- Gold coins are back in favor.
Australia's Perth Mint reported a jump in sales of coins and minted bars to 62,552 ounces in September, the highest since January 2017. Sales of similar silver products more than doubled from a month earlier to 1.3 million ounces, the highest in two-and-a-half years, according to the company's blog.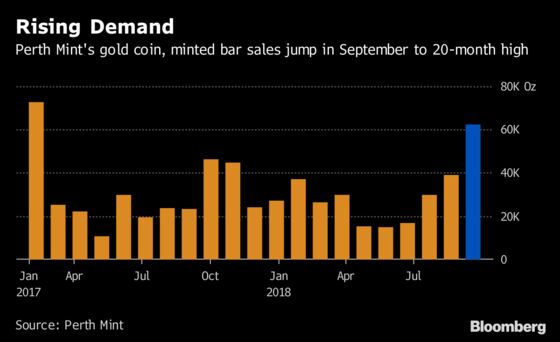 The slump in prices has fanned interest, the Perth Mint said in an email. Spot gold touched a 19-month low in August, while silver tumbled last month to the lowest since January 2016.
"Some of this is down to the previously dormant U.S. market, which at last is showing signs of reawakening," the company said. "We've seen growth in sales of our Australian Kangaroo gold and silver coins, while the unveiling of our 2019 Australian Lunar series in September has led to significant demand globally."
Three-quarters of the 1-ounce gold and silver coins minted for the Lunar series -- which depict a pig in accordance with the Chinese calendar -- have already been shipped, the company added. The Perth Mint has been in business for over a century, refining gold from Australia, the world's No. 2 producer.