Go Long on Aussie With Economic Recovery Bet, Insight Says
The Australian dollar's turnaround signals the start of a recovery that may see it rally to 70 U.S. cents by year-end, according to Insight Investment.
An early start to rebooting the economy and a rebound in commodities will support the Aussie, says Adam Kibble, investment specialist at Insight. The currency is also likely to gain against the euro as the common bloc struggles to contain the economic fallout from the virus outbreak, he added.
"Exiting the virus earlier, compared to Europe and the U.S., will be very positive for the Aussie," said Kibble. "The ability of Europe to respond to the economic consequences of the virus is fairly limited."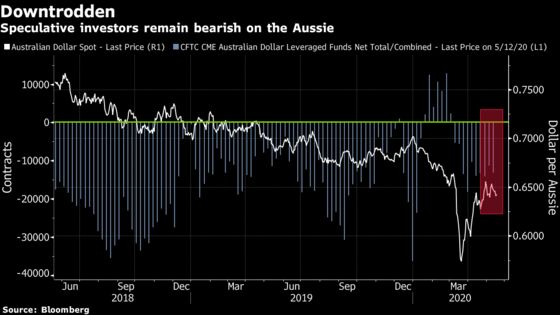 The Aussie has climbed almost 20% after sliding to the lowest since 2002 in March and its recovery is closely watched as a test case for other currencies that have been battered by the pandemic. The nation aims to restart its economy by July under a three-part plan that puts it ahead of developed markets.
Still, the currency may fall prey to an escalation in trade tensions. China could target Australian goods if it decides to intensify a row over Canberra's calls for a probe into the origin of Covid-19, according to people familiar with the matter.
"China has a significant amount of leverage through trade," said Sebastien Galy, senior macro strategist at Nordea Investment Funds SA. "We are typically more often short Aussie as a risk-off proxy as part of some of our strategies."
The Aussie has rallied almost 7% this quarter to outperform its major peers. It rose 0.5% to 0.6554 per dollar as at 4.36 p.m. in Sydney.
The Aussie will also get a lift as China's economy reopens and demand for commodities gains momentum, according to Kibble, whose firm oversees 681.2 billion pounds ($825 billion).
Australia's biggest trading partner is "further down the recovery path and has started to see some degree of normalization in the economic activity," Kibble wrote in a report. "All of this suggests that, while the current crisis is likely to have long-term repercussions, Australia is better equipped than most to deal with the economic fallout."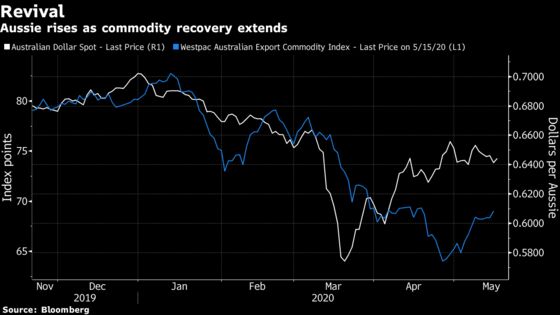 The Australian government has unveiled one of the "most aggressive" policy responses among Group-of-10 peers with an A$130 billion ($83.7 billion) rescue plan, and any sell-off may be a chance to buy, Kibble said.
"We see them as opportunities to raise hedging levels or reduce foreign currency exposure," he said.