Global Stocks on Sale as Indexes Slump Into Oversold Territory
(Bloomberg) -- The global market meltdown has pushed stock gauges around the world into oversold territory in a replay of the rout in February, according to a key technical indicator.
From New York to Tokyo, equities have fallen too fast in a potential fillip for dip buyers, based on 14-day relative strength indexes that track the magnitude and speed of price fluctuations.
Typically, an index with an RSI reading below 30 is dubbed oversold while a level above 70 is considered overbought by traders who follow the analysis.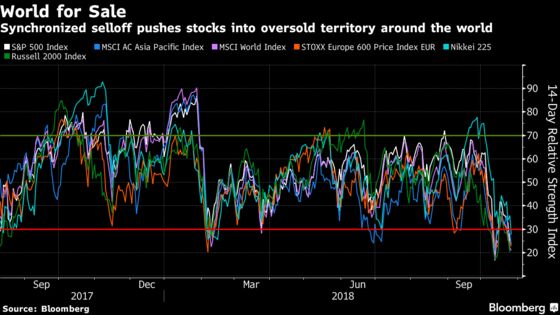 It's a volte-face from January's euphoria, when stocks jumped to some of the most overbought levels on record.
More than $6.7 trillion in value has been wiped off the global equity-market capitalization since late September, according to data compiled by Bloomberg, compared with $7.8 trillion in the February correction. The S&P 500 Index closed down 3.1 percent Wednesday, with October on track to be the U.S. benchmark's worst month since February 2009.