S&P 500 Rebounds to Post Biggest Gain in Two Weeks: Markets Wrap
U.S. stocks bounced back a day after their biggest rout in four months, with investors encouraged by better-than-forecast economic data even as they kept a wary eye on growing coronavirus infections.
The S&P 500 Index 1.2%, the most since Oct. 12, after President Donald Trump said he plans "a very big package" of stimulus following the election. The dollar and Treasury yields rose after reports showed a decline in weekly jobless claims and a surge in third-quarter economic growth that reversed much of the pandemic collapse.
An exchange-traded fund that tracks the Nasdaq 100 edged lower after the close of regular trading following a flurry of earnings releases. Twitter Inc.'s new-user numbers disappointed, while revenue for Alphabet Inc. beat estimates. Amazon.com Inc. projected operating income that trailed estimates after reporting better-than-forecast sales.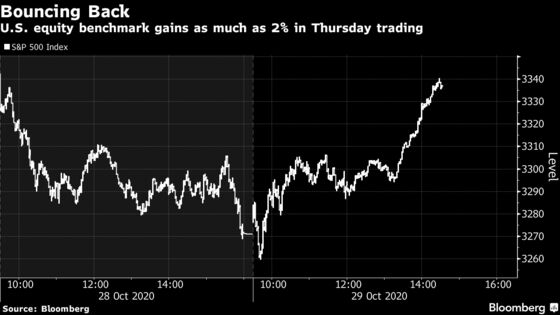 Even with Thursday's gains, global equities are headed for the worst weekly decline since March amid new lockdown measures and U.S. politicians' failure to agree to a stimulus plan before the Nov. 3 election. The Covid-19 surge in the Midwest rose to a record, led by single-day highs in Kansas, Iowa and South Dakota as the region's outbreak spread toward both coasts. Anthony Fauci, the government's top infectious disease doctor, said the earliest a vaccine might be available is late December or early January.
"The market clearly has concerns about Covid and shutdowns but it would not surprise me at all if in a week or two there's a completely different narrative," said Evan Brown, head of multi-asset strategy at UBS Asset Management. "Ultimately we're going to get a safe and effective vaccine."
In Europe, stocks edged lower. The euro extended its decline after the European Central Bank paved the way for a package of fresh easing in December to deal with a worsening economic outlook.
Stocks slumped in Asia, with losses for the main indexes in Japan, Australia and Hong Kong.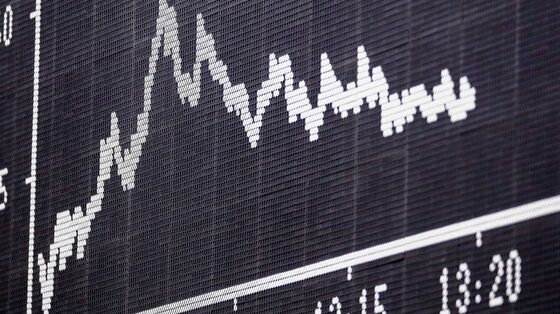 Here are the main market moves:
The S&P 500 Index rose 1.2% as of 4 p.m. New York time.
The Nasdaq 100 Index increased 1.9%.
The Stoxx Europe 600 Index fell 0.1%.
The MSCI Asia Pacific Index decreased 0.2%.
The Bloomberg Dollar Spot Index increased 0.3%.
The British pound declined 0.4% to $1.2936.
The euro weakened 0.6% to $1.1678.
The Japanese yen fell 0.3% to 104.64 per dollar.
The yield on 10-year Treasuries rose six basis points to 0.83%.
Germany's 10-year yield declined one basis point to -0.64%.
Britain's 10-year yield rose one basis point to 0.22%.
WTI crude declined 2.7% to $36.38 a barrel.
Gold weakened 0.4% to $1,870.01 an ounce.