Global Rout, Local Reasons. Meet Wall Street's 'Disjointed' Bear
(Bloomberg) -- Here's another way of thinking about bearish forces gripping global markets: Local pressure points are flaring up in a dissonant medley.
Idiosyncratic moves are at their strongest this year, creating a "low-correlation bear market," according to JPMorgan Chase & Co., echoing similar conclusions from Bank of America Corp. and Barclays Plc.
While catch-all narratives like monetary tightening, ageing business cycles and trade wars have gripped investors, cross-asset correlations are actually falling at the same time as prices are declining. That's leaving money managers with few places to hide.
U.S. government bonds have failed to rally of late on days stocks have been pounded. Developed-market equities have traded largely flat in recent weeks while emerging-market stocks and currencies have eked out gains. And all the while, a correction in commodities that could be firing a warning siren on industrial and consumer demand isn't being heard by other risk assets.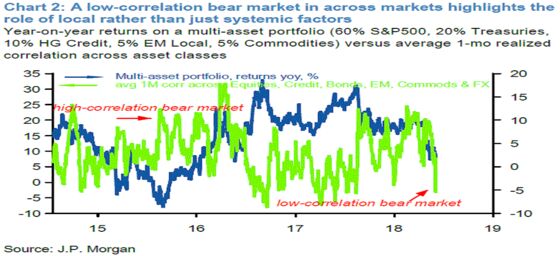 All that might explain why global markets are flashing conflicting signals on economic growth and risk appetite, with traditional relationships being put to the test.
"Probably because there are so many macro and policy issues in play currently -- mixed global activity data, Brexit disarray, G20 hopes, OPEC confusion, Fed consternation -- cross-asset movements are becoming increasingly disjointed," strategists led by John Normand wrote in a note.
Tensions in commerce, tighter monetary policies and cracks in the global-growth story are also largely failing to influence implied developed-currency volatility -- another sign suggesting markets aren't gripped by a shared macro force, according to Bank of America.
Brexit negotiations have buffeted the pound for instance, while Canada's currency has swung with oil prices.
"The implied vol space is driven less by a common theme, and more by idiosyncratic risks," strategists led by Alice Leng wrote in a note. "This is a sharp contrast to 2014 when dollar movement was the dominant factor driving currency vol across regions."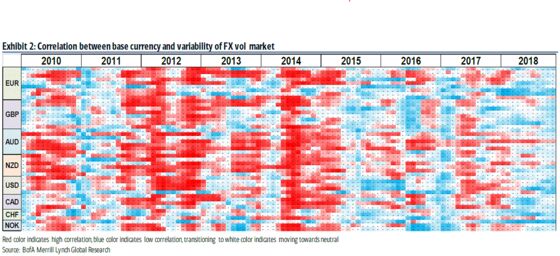 Not every bank is measuring outsized dispersion. Morgan Stanley's correlation indicator has risen to a two-year high, though it remains below levels typically seen in equity drawdowns. The gauge measures movements between both asset classes and regions.
Still, Barclays is another proponent of the view that a perfect storm of one-off forces has been hitting markets of late.
Analysts cite a laundry list of localized drivers -- the bloodbath in General Electric Co., tumbling oil, California wildfires and Brexit turmoil -- as pushing credit premiums wider, in concert with elevated stock volatility. That suggests the market isn't sounding fresh bearish alarms on the health of corporate balance sheets across the board.
"We do not think they indicate a broad increase in contagion risk and rather view the events of the past month more as idiosyncratic risks that happen to be flaring up at the same time," strategists Bradley Rogoff and Shobhit Gupta wrote in a Nov. 16 note.