Reliance Industries Boosts Indian Stocks Best Gain in 7 Weeks
(Bloomberg) -- Reliance Industries Ltd. jumped supporting the Indian equities benchmark's best gain in seven weeks even as most shares dropped Friday, paced by a plunge in the nation's top drugmaker.
The S&P BSE Sensex rose less than 0.1 percent to 36,386.61 at the 3:30 p.m. close in Mumbai, fluctuating between a gain of 0.3 percent and a drop of 0.4 percent. The NSE Nifty 50 Index was little changed at 10,906.95. Both gauges advanced 1 percent this week.
Investors will continue to take cues from global events ahead of the national elections due by May. Earnings reports for the December quarter will also be in focus, with seven of the top 50 companies having reported so far.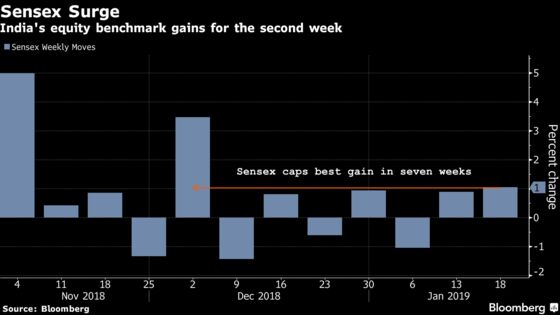 Reliance Industries climbed 4.4 percent to its highest in more than three months as founder Mukesh Ambani, Asia's richest man, laid out a plan to start e-commerce business. The company earlier reported December quarter net income that topped analyst estimates.
Sun Pharmaceutical Industries Ltd. plunged 8.4 percent, the worst performer in Asia, after a report of a second complaint against governance standards at the company. The company asked the market regulator to examine the complaint mentioned in the media report.

Group company Sun Pharma Advanced Research Co. plunged 14 percent, most since March 2015.

Tata group company Rallis India Ltd. dropped 5.2 percent as its third-quarter net income trailed estimates.
Thirty-three of the 50 Nifty members retreated even as the gauge eked out an advance.
Sixteen of the 19 sector indexes compiled by BSE Ltd. dropped, led by a gauge of telecom stocks.
Net incomes of five of the seven Nifty 50 companies that have reported earnings so far have matched or beaten estimates, data compiled by Bloomberg shows. Software exporter Wipro Ltd. gained 3.2 percent before it reported a net income that beat estimates.
"Sun Pharma has been facing issues on corporate governance since last few months and there are reports of a new whistle-blower complaint," said Sameer Kalra, president at Target Investing in Mumbai.
"Improving corporate balance sheets and gradual recovery in earnings are the two key positives for Indian equities," said Chakri Lokapriya, chief investment officer at TCG Asset Management.
"Poorly thought out regulations and a delay in bankruptcy resolutions are the two biggest negatives, he said. Lokapriya expects "muted earnings" in 2020, with "pockets of growth" such as banking and software exporters.
Analyst Notes/Market-Related Stories
Manager Who Dodged Global Crisis Sees 20-Year Bull Run in India
Cyient Revenue Unimpressive But Order Book Encouraging: Reliance