Global Markets at the Mercy of the Dollar Arrive at a 'Fork in the Road'
(Bloomberg) -- Global markets have arrived at an inflection point, with the dollar's fate poised to determine whether the extreme divergence in equities continues, according to Oxford Economics.
"There is a fork in the road," writes Gaurav Saroliya, director of global macro strategy.
The shop is positioning for a weaker greenback, a development that researchers there say would allow non-U.S. equities to catch up with the gangbusters growth in their American counterparts. Oxford favors emerging-market bonds as well as developed-market equities and cash, backed by the view that fiscal as well as monetary stimulus from Beijing will bolster the world's second-largest economy and help fuel global growth.
Markets may already be sauntering down this road. The Bloomberg Dollar Spot Index fell 0.3 percent on Monday as the U.S. announced that additional tariffs against China would be enacted in a week, and dipped again Tuesday after Beijing announced retaliation. In addition, the MSCI All Country World Index (ex-U.S.) has outperformed the S&P 500 Index for four consecutive sessions, its longest such stretch since mid-March.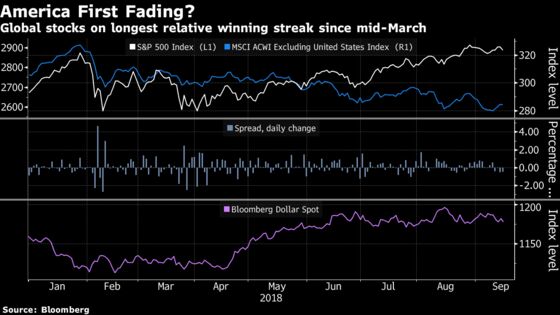 The end of U.S. market leadership would come at an inopportune time for most portfolio managers. According to a Bank of America Merrill Lynch survey, investors went all-in on the divergence trade in September, with the share reporting an overweight position in U.S. equities rose to its highest since the start of 2015.
Oxford points to signs that China's economy is resilient, even if the benchmark stock gauge closed at the lowest since 2014 on Monday. The annual growth of the Li Keqiang Index, a gauge of activity in the "old" or industrial Chinese economy, has been trending higher in 2018.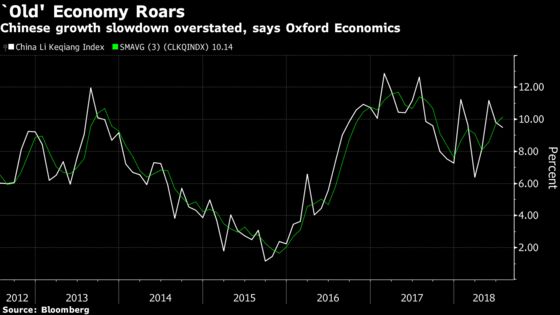 "Chinese real-estate and heavy-industry indicators point to support for world trade" and are also supportive of commodity prices, which should help emerging-market producers, they write. Strong Chinese growth could spur an emerging-market currency rally like that seen in early 2016, "though the nature of any such rally will be checked by continuing trade tensions."
A scenario under which the dollar maintains its strength or gains further would weigh on riskier assets, including U.S. equities, according to Oxford.
"The recent bout of U.S. dollar strength threatens to exacerbate the slowing in world trade we have seen in recent months," according to the team. "In this scenario, to which we would assign a 40 percent chance over six months, there is no recovery for non-U.S. equities and U.S. equities will probably suffer another correction of around 10 percent."
The potential for this scenario warrants retaining overweight positions in U.S. Treasuries, yen, and cash as hedges, they write.