Global Bonds Drop After Stocks Jump on Trump's China Trade Talks
(Bloomberg) -- Global bonds dropped as investors dumped haven assets and turned to stocks on dissipating fears of a U.S. trade war with China.
Benchmark securities in Germany, Australia and the U.S. were among the biggest losers as equity markets across Asia and Europe rallied following an October sell-off. That followed a report U.S. President Donald Trump wants to reach an agreement on trade with Chinese President Xi Jinping.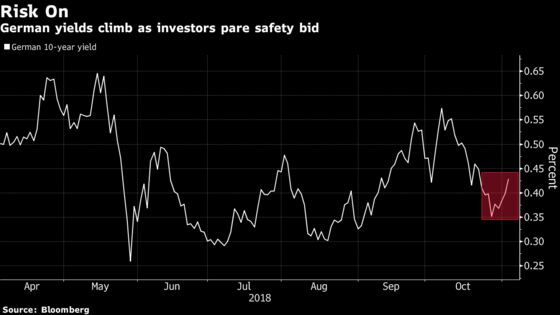 "The display of optimism after the Xi/Trump phone call goes some way towards alleviating one of the fears that weighed heavily on risk sentiment in the past weeks," said Antoine Bouvet, an interest-rates strategist at Mizuho International Plc.
The yield on 10-year German bonds rose three basis points to 0.43 percent as European markets opened, with equivalent Australian yields up five basis points and Treasury yields four basis points higher at 3.17 percent.
Treasury yields may be set to rise more than for bunds in the short term, according to Arne Lohmann Rasmussen, head of fixed-income research at Danske Bank A/S. If the positive sentiment continues there could be a new test of the 3.25 percent level in 10-year Treasury yields over the next two weeks, he said, pointing to a seven-year high touched last month.
Trump has asked key U.S. officials to begin drafting potential trade terms ahead of the Group-of-20 nations summit in Argentina later this month, according to people familiar with the matter.
"This is only a tentative sign and I think there will be reluctance on the part of investors to change their outlook unless more concrete details are given, in particular on the substance of any agreement," Bouvet said. "Note there is almost a month before their meeting in Argentina so this headline alone will not be enough to keep markets going over this period."