Glimmers of Optimism Surface After Emerging-Market Selloff
(Bloomberg) -- For every rout, there's a buyer -- or a least that's what it looks like for some emerging-market money managers after a selloff erased most of this year's gains.
BlackRock Inc., Goldman Sachs Asset Management International and Payden & Rygel Investment Counsel say they're betting on a rebound now that valuations have left some assets a lot cheaper than January. Pictet Asset Management Ltd. even says emerging markets offer the best value among asset classes.
"We really haven't changed our view this year on emerging markets," said Kristin Ceva, who helps oversee about $9 billion at Payden & Rygel in Los Angeles. "This has become a pretty good buying opportunity."
The price-to-earnings ratio of the MSCI Emerging Markets index stands at about 11.8, down from a high of 13.3. Hard-currency bond spreads, described by investors as too tight earlier this year, have widened by about 40 basis points.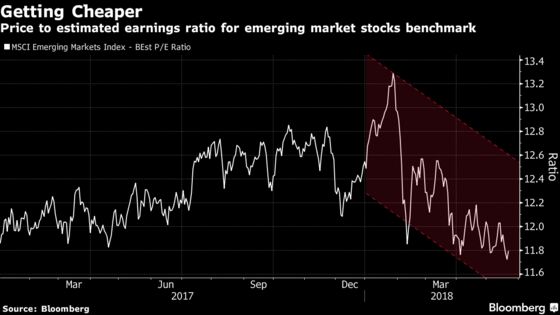 Ceva, who helps oversee an emerging-market debt fund that's beaten 80 percent of peers during the past five years, is focusing on less-heralded frontier and emerging markets such as the Dominican Republic, Ghana and Georgia. In currencies, she favors South Africa's rand, the Colombian peso and the Malaysian ringgit.
Richard Turnill, global chief investment strategist at BlackRock in London, is seeking opportunities in emerging-market stocks, favoring Asian companies with strong corporate earnings and relatively healthy balance sheets. He also sees value in Brazilian equities, but is more cautious on emerging-market bonds overall, favoring dollar securities from countries with low financing needs.
Pictet, the fund-management arm of the Swiss group that oversees 509 billion Swiss francs ($512 billion), expects emerging-market technology stocks to outperform, delivering returns of 14.5 percent, more than double those of their U.S. counterparts, according to a report distributed to reporters in London.
Emerging-market assets slid this quarter as the dollar and U.S. Treasury yields churned higher and domestic issues rattled Argentina and Turkey. Yet many investors say they remain confident there's little risk of contagion.
Dollar bonds are worth looking at now given that fundamentals for the asset class weren't harmed by the selloff, according to Angus Bell, who manages emerging-market debt in London at Goldman Sachs Asset Management.
"The global economy remains intact and I think it would be wrong to extrapolate what is happening in some of the more problematic economies as being a reflection of the entire EM universe," Bell said.