Glencore Trader Is Said to Be Held in China Amid Lead Probe
(Bloomberg) -- A Glencore Plc trader is one of a group of people detained by Chinese authorities this week as part of an investigation into shipments of lead into the country, according to people with knowledge of the matter.
Hu Qiang, a Beijing-based senior lead concentrate trader at Glencore, was detained by Chinese customs authorities, the people said, asking not to be identified because they're not authorized to speak publicly. While a spokesman for Glencore declined to comment on any individual arrests, the company on Thursday said it refutes allegations that it acted improperly.
The Nanjing branch of China's customs authority this week was said to have seized 16,000 metric tons of imported material that it says is lead slag but was declared as lead concentrate. The authorities allege that Glencore worked with a local company to import the material from Germany.
Nobody replied to calls or a fax to the Chinese customs administration in Beijing. Hu didn't answer calls to his mobile phone, which was forwarded to voicemail, nor did he reply to emails sent to his work address.
It's another challenge for the world's biggest commodity trader as it grapples with legal battles from Africa to Europe and faces the possibility of a bribery investigation by Britain's white collar prosecutors over its work in the Democratic Republic of Congo with an Israeli billionaire.
The probe is part of a nationwide crackdown by law enforcement officials into imported waste, according to two of the people. Officials detained 137 people on May 22 as part of the investigation, according to a statement posted on the website of General Administration of Customs, which doesn't identify any people or companies involved.
China's the world's biggest commodities consumer and sources everything from mineral ores to oil seeds and scrap metals from around globe. The country has been blocking waste imports in recent years in an effort to improve its environment. The material was imported in three batches to the port of Lianyungang in Jiangsu province in December, people said on Thursday.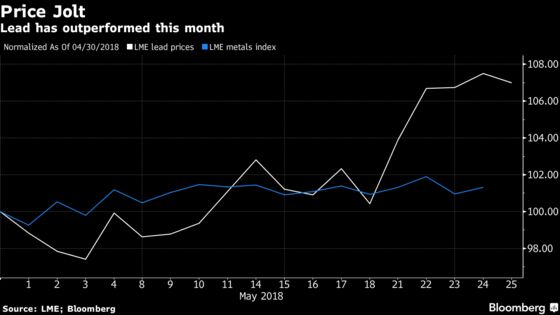 As prices soar for new battery metals including cobalt and lithium, lead is attracting renewed attention from investors as the government cracks down on some recycling and smelting because of pollution concerns, curbing output.
The metal is one of the top performers among the six main contracts on the London Metal Exchange in May. Three-month futures traded at $2,482 a ton as of 5:01 p.m. in Singapore on Friday, up 7 percent this month.
China's move to curb pollution has limited lead supplies, according to Yang Caixia, an analyst with Beijing Antaike Information Development Co. A crackdown could keep production of the metal in China this year around the same level as 2017 against a background of sustained demand, said Yang.