Glencore's Latest Congo Setback Gets a Shrug From Investors
(Bloomberg) -- Glencore Plc's facing yet another snag in the Democratic Republic of Congo but investors don't seem overly concerned.
The commodities giant has had a tough year in the mineral-rich African country and the difficulties have weighed on its shares. In the latest twist, Katanga Mining Ltd., in which Glencore owns 86 percent, said it's been blocked from exporting copper and cobalt from the Congo over a dispute around payments on copper that was never actually mined years ago.
Katanga Mining and its Kamoto copper and cobalt mine is one of Glencore's most important growth projects. It restarted production in December after a two-year hiatus during which it invested in new processing facilities. It expects to produce as much as 300,000 metric tons of copper and 34,000 tons of cobalt in 2019. That would make it Congo's biggest copper mine and the world's largest producer of cobalt.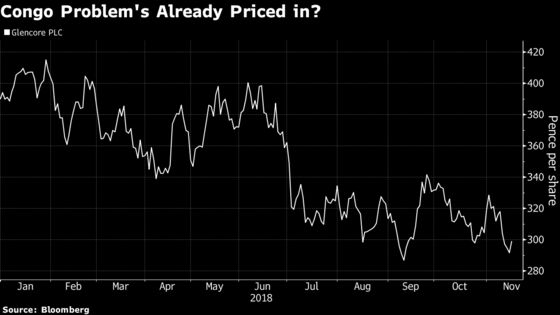 The company said it expects to reach some kind of agreement with Congo's customs authority in the coming days, but cautioned that revenue will be hit if it can't resume exports soon. The Congo government is asking for $129.8 million to settle the dispute, a number rejected by Katanga.
Despite the importance of the project, investors in Glencore were unmoved, signaling they see this as just another small bump in the road. The shares were up 2.6 percent at 1 pm in London.
"It looks like a classic play by the Congolese government," said Ben Davis, an analyst at Liberum Capital Markets. "It's hard to see this not being fixed pretty quickly. The discount of operating in the Congo is already in Glencore's price."
The block is the latest Congo challenge for Glencore this year. Early this year, it agreed a $5.6 billion debt-to-equity swap at Katanga, effectively reducing the debt load of the subsidiary which Glencore co-owns with state-owned miner Gecamines. That deal also included a one-time payment of $150 million to Gecamines that raised concerns with some investors and non-governmental organizations.
It's also been fighting against a new mining code that raised royalties, introduced taxes and canceled a clause that would have protected producers against fiscal changes for 10 years, while the U.S. government has launched a probe into the company relating to possible corruption in the country.
Most recently, Katanga said last week it was halting exports of cobalt from the country after detecting low levels of radioactivity in supplies.