Chinese Yuan's Narrow Range Helps Keep Riskier Markets Buoyant
(Bloomberg) -- China's yuan has been stuck in a tight range since the nation's financial markets re-opened after a stretch of October holidays, quelling currency volatility globally and buoying risk sentiment.
The yuan-dollar rate has fluctuated by less than a percentage point as traders await the expected release this week of the U.S. Treasury's currency manipulation report, which may call out the Asian nation.
For Kit Juckes at Societe Generale SA, the dimmed swings in the exchange rate of the world's two biggest economies has contributed to a calming backdrop that's bolstering higher-risk currencies and share prices. The Swedish krona and New Zealand dollar were among the leading gainers in the Group of 10 Tuesday as a rebounding S&P 500 Index notched its biggest one-day advance since March, while havens such as the yen and dollar lagged.
"USD/CNY has traded in a 0.75% range, which is helping to keep a lid on global FX volatility and prevent idiosyncratic shocks from spilling over into broader-based moves," Juckes, a global foreign-exchange strategist, wrote in a note to clients Tuesday. "This is good policy but doesn't make for exciting markets!"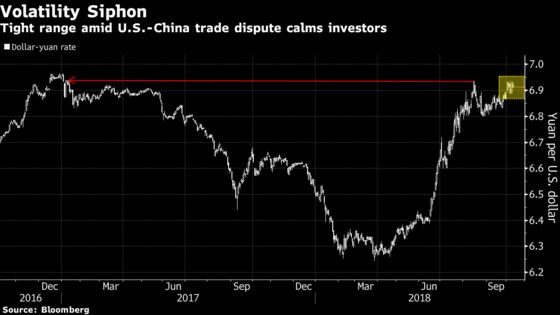 At about 6.9 per dollar, the yuan has weakened back to around levels from the beginning of last year. The Federal Reserve's broad trade-weighted dollar index, meanwhile, has rebounded to levels close to those from early 2017. And the Australian dollar, seen as a higher-risk currency that swings according to investor sentiment, has also plied a narrow range since early October.
Chinese authorities "will eventually let the currency slip a bit further," Juckes wrote. "But in the very short term, what a steady USD/CNY does, is apply downward pressure on volatility despite the geopolitical bumps markets are facing, and lure investors back to higher-yielding and beaten-up currencies."