Ginkgo Bioworks Soars After Attracting Another Big Investor
(Bloomberg) -- Hedge fund favorite Ginkgo Bioworks Inc. added $4.9 billion in value on Tuesday as the stock rallied after luring another influential investor, Scottish investment firm Baillie Gifford & Co. 
The bioengineering startup jumped 20% to close at $14.81, the highest since its trading debut after a merger with a blank-check company in September. Baillie Gifford regulatory filings revealed the firm took a stake in the company valued at more than $1 billion. The fund manager benefited recently from high-profile bets in electric carmaker Tesla Inc. and vaccine innovator Moderna Inc., and is now the fourth-largest holder in Ginkgo.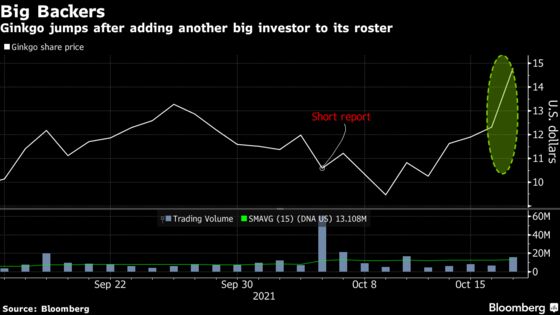 While shares took a beating after the emergence of a short-seller report earlier this month, other well known investors, like Cathie Wood's Ark Investment Management, used the downturn to snap up shares. Viking Global Investments as well as Bill Gates' Cascade Investments LLC are the Boston-based biotechnology company's biggest backers.