Ghost of XIV Rises: A New Short Vol Product Is in the Pipeline
(Bloomberg) -- A financial startup wants to create a new version of the ETP that enabled bets against stock volatility before infamously blowing up during the February 2018 market rout.
Volatility Shares LLC has applied to Cboe Global Markets Inc. to register an exchange-traded fund that would give investors the ability to short futures on the Cboe Volatility Index, according to a new filing.
VIX futures are linked to that measure, a gauge of the 30-day implied volatility of the S&P 500 Index that's often known as the market's "fear gauge." It moves inversely to U.S. stocks about 80% of the time. While the new fund would be the only one moving one-for-one in the opposite direction of short-term VIX futures, an existing fund offers half of that exposure.
Volatility Shares is a partnership formed by Stuart Barton, a partner at Invest in Vol -- a financial adviser -- and colleague Justin Young. Michael Venuto and Guillermo Trias of Toroso Investments, which specializes in ETFs, are also involved in the new firm.
Barton said he hopes the product will be available early in 2020.
The ETF's design changes some of the attributes that may have contributed to the flame out of XIV -- the VelocityShares Daily Inverse VIX Short-Term ETN -- which closed after a record one-day jump in volatility on Feb. 5, 2018.
XIV gave retail investors direct access to the short-volatility trade, amassing nearly $1.9 billion in assets shortly before its demise. The bets paid off throughout 2017, one of the most tranquil years on record for the S&P 500. XIV was so popular that it even had its own subReddit: /TradeXIV. The prospectus did warn that the note could be shuttered if it lost 80% of its value in one session, but many investors had not read the fine print.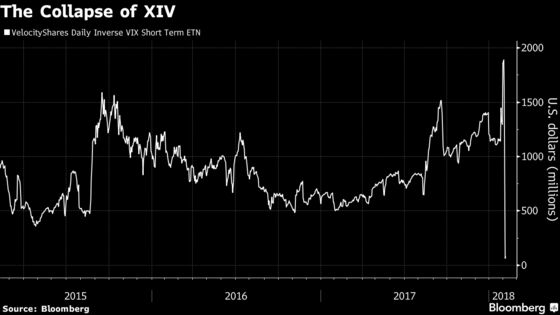 A similar product, SVXY, dialed down its leverage in the aftermath of the February volatility spike, and additional products that track other parts of the VIX futures curve received relatively little interest.
"What happened on Feb. 5 was kind of a problem that I think the original architects of those products hadn't foreseen," said Barton. "That left a gap in the markets, and we were asking people to provide a solution. Nobody stepped up, so we did the research and leg work and hope to bring that solution to market."
The new product would be an exchange-traded fund rather than a note. Unlike ETNs, which are unsecured debt obligations, ETFs are backed by a pool of assets. Volatility Shares would aim for the ticker SVIX, according to a person familiar with the matter.
SVIX would track the Short VIX Futures Index, whose backtest suggests a loss of just 30% on Feb. 5, compared to the 96% retreat in the indicative value of XIV. In November, Barton penned an article outlining his thoughts on better methodologies for constructing volatility ETPs, indicating that the end-of-day rebalancing behavior was a weakness. He raised the idea of a 15 minute time-weighted average price ending at 4 p.m. New York time as an alternative.
Informal surveys suggested robust appetite for a product like XIV. After the note's implosion, Devesh Shah, who helped invent the VIX index, said he didn't know why these products existed -- while predicting that a successor would soon emerge.
"And what's going to happen as a result of this? Nothing, other than in a few months' time someone's going to come up with a new XIV, and everyone's going to start putting money into that," he said back in February 2018. "That's OK, that's how the world goes."