Optimistic Strategists Switch to Riskier Stocks in Asia
(Bloomberg) -- Asia has largely missed the global rotation into value stocks in recent months. But that may soon change as optimism is rising for the cheaper but more risky shares, some market watchers say.
Signs have emerged that some investors in the region are shifting their preference to undervalued stocks that are more dependent on economic growth, thanks to an improvement in macro data and rising bond yields. Expectations for a trade agreement between the U.S. and China, along with a new wave of central-bank interest cuts, are expected to put a floor on the expansion across Asia.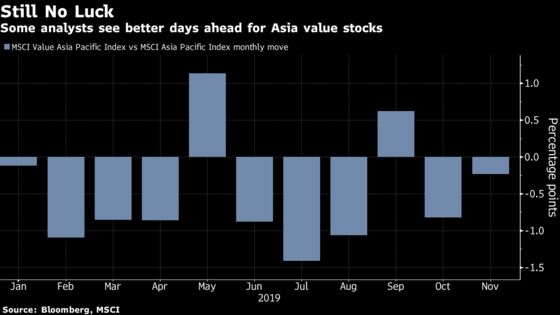 One of the obvious examples is the rapid rally in the region's major semiconductor producers in the past couple of months. And more recently, financial stocks have started to eclipse traditional defensive sectors such as real estate investment trusts in markets like Singapore.
It's the right time to get ready for a potential comeback of value in Asia, according to David Wong, an investment strategist at AllianceBernstein who made an accurate call on U.S. equities at the beginning of the year. Now, investors should "tactically" add value stocks in Asia and perhaps small caps as an addition to their core allocation of American shares, Wong said.
There are historical precedents for this call, he said, citing data going back to 1991. During periods of economic recovery, "value companies do better, small companies do better and certain regions do better because they had been crushed in previous periods," he said, adding that signs of a bottoming out in the slowdown are emerging.
Also read: It's Not Goldilocks, But Maybe It Doesn't Need to Be: Macro Man
For anyone looking to ride this wave in Asia, Wong recommends to stay with equities that have fundamental catalysts -- think technology-hardware companies -- to weather potential downside risks. Deep value, which refers to extremely cheap stocks, may still be too risky as signs of an economic recovery are still "preliminary," he said.
Societe Generale says Japan has become a value story since Prime Minister Shinzo Abe's stimulus program started. While equity valuations are low, companies there have accumulated "huge" cash piles that are poised to drive future returns, strategists wrote in a Nov. 20 note.
Skepticism about growth may help explain why the recent rally in Asia value fizzled. In the U.S., their performance has been quite different, also partly because the group leans more toward banks and energy companies. While value has trailed the market in the U.S. for the past decade, the shares were doing well in Asia until about two years ago, according to a note from Sanford C. Bernstein.
If macro data keep improving, sending long-dated bond yields up, investors may decide to add cyclicals, bank and insurance stocks from developed Asia, such as Singapore and South Korea, Nomura strategist Chetan Seth said. Andy Wong, a fund manager at LW Group, said Asia autos, also a cyclical sector, may hit a turning point in mid-2020.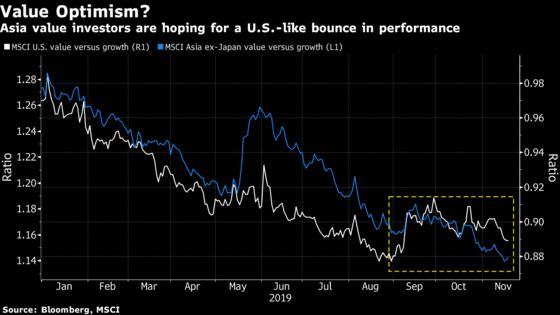 While the relative performance of value bounced back and largely held steady in the U.S. until early November, the rebound in Asia was much milder and short-lived. An MSCI index tracking the group in the region outpaced growth peers in September, but soon turned south.
The world's economic outlook could still be the key obstacle for the cheap stocks to return in vogue. No one is 100% sure about a trade deal or a sustained pickup in PMIs, said AllianceBernstein's Wong. He recommends a balanced investment approach, with half of the equity allocation to U.S. stocks.
"The key question now is whether investors should expect a robust V-shaped recovery in global growth and therefore earnings, or is it going to be an L- or a U-shaped recovery?" Nomura's Seth said.