Virus Won't Derail Next Year's Bull Ride for European Stocks
(Bloomberg) -- Even lockdowns and omicron can't derail strategists' optimism that the European stock market rally can extend into next year. 
The benchmark Stoxx 600 Index will gain 9.3% to 506 index points by the end of 2022 relative to Tuesday's close, according to the average of 17 forecasts in Bloomberg's survey. That compares with 4% average annual gains over the past 20 years and would take the gauge to a record high.
"We believe that the positive catalysts are not exhausted, with equities likely to advance further next year, as stagflation fears recede, from both sides," said JPMorgan Chase & Co. strategist Mislav Matejka, who has a 525 target for the Stoxx 600. "The omicron variant is a wild card to this, but mostly in the near term, and is unlikely to be a game changer for the next year."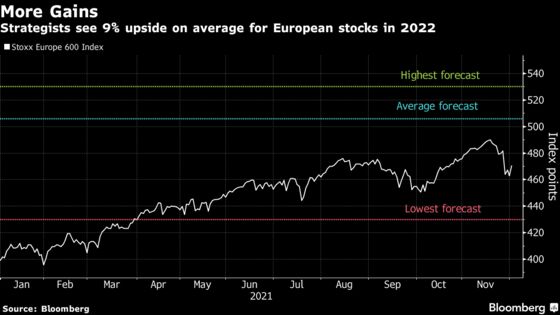 After a whopping 18% rally and multiple record highs this year, European stocks suffered a setback in November as the latest Covid-19 wave and emergence of the omicron variant led to new restrictions, fueling concerns that the recovery might stumble. But strategists surveyed by Bloomberg view these risks as merely a temporary bump in the road, and expect earnings growth, along with generous fiscal and monetary stimulus, to support the rally in 2022.
For Barclays Plc's Emmanuel Cau, less complacency in the market over Covid-19 risks is a good thing, and he recommends that investors buy the dips.
"New variants are a source of volatility but the world is more prepared compared to February 2020," said Societe Generale SA strategist Roland Kaloyan, who sees a bright outlook for European equities thanks to robust balance sheets, increased margins and elevated cash levels.
"Corporates have adapted to virus constraints, while central banks and governments could support the market in the event of an adverse scenario," he added, recommending adjusting portfolios toward cyclicals in 2022.
Strong profit growth is among the biggest reasons European stocks can rise to new records next year. UBS Group AG strategists led by Nick Nelson forecast earnings growth of 15% in 2022, well above the 8% consensus, but say market returns will likely be "front loaded" in the first half of 2022 before earnings momentum turns negative and the focus shifts to monetary tightening.
The bullishness among strategists is even more apparent from the survey's median target for the Stoxx 600 of 520, implying 12% returns in the next year. Targets in the survey range from 430 to 530, with Goldman Sachs Group Inc. and Bayern LB being the most bullish, while Bank of America Corp. and TFS Derivatives are the most bearish.
"We expect 2022 to be a year of payback, as growth slows back towards trend in response to a fade in cyclical support factors, and a withdrawal of monetary stimulus leads real bond yields to rise," said Bank of America strategist Milla Savova. "The emergence of the omicron strain is not part of our base case but, if anything, reinforces the notion that the risks to the growth outlook are increasingly skewed to the downside."
Other survey highlights include:
For the Euro Stoxx 50, strategists on average see 12% upside
For the DAX, strategists on average see 11% rise
For the FTSE 100, strategists on average see 8.6% gain
For tables on the Euro Stoxx 50 and Stoxx 600 polls click here; for a table on the DAX poll click here, for a table on the FTSE 100 poll click here.