Get Into Emerging Markets, Credit Suisse Prime Broker Says
(Bloomberg) -- Hedge fund managers should shrug off the recent turmoil in emerging markets because they'll offer better returns than the U.S. in coming years, according to Credit Suisse Group AG's head of risk advisory.
Returns in North America are being driven by fewer assets, while inefficiencies in emerging markets give hedge funds greater opportunity to add value, Mark Connors, the New York-based global head of risk advisory on the Swiss bank's prime services team, said in a Bloomberg Television interview Wednesday.
"Structurally, the U.S. has fewer stocks to trade. It's very liquid, it's over-brokered," he said. "If you are going to build the business for the next five years, you have to follow the plot of 'not where it is' but 'where it is going,' and it's clearly in emerging markets."
Investors have fled developing nation stocks and bonds this year amid a stronger dollar, escalating global trade tensions and turmoil in Argentina and Turkey. The MSCI Emerging Markets Index has declined 10 percent in 2018, while the S&P 500 Index has gained 9 percent.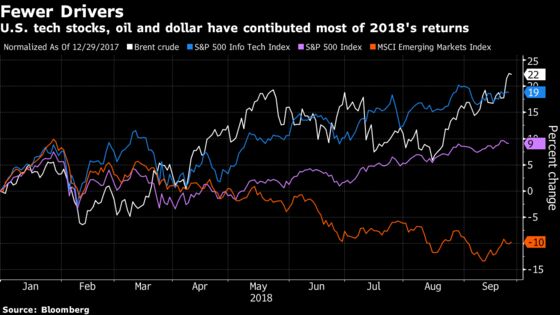 In other comments, Connors said:
The bulk of returns this year have been driven by a stronger greenback, crude oil and U.S. tech stocks. "Without those three, investors would have had a very tough 2018."
Hedge fund returns will improve as central banks exit easy monetary policy and fiscal stimulus such as tax cuts help good companies distinguish themselves.
In particular, global macro funds will shine. "We think it's changed because of the fiscal policy and also, fundamentally, you have inflation."