Germany's Record Share Advance May Face GDP Test 
Germany's DAX Index racked up another record high on Wednesday as virus fears faded and China pledged to meet its economic targets. Despite some profit warnings, German stocks are far removed from the drama of last year, while domestic political wobbles have been brushed aside so far. But tomorrow's GDP numbers may give an indication on the recent health of Europe's biggest economy, while the impact of the coronavirus still lies down the road.
So far, the earnings season hasn't been great for the nation's stocks. After about 20% of companies from the broader HDAX reported for the quarter, Bloomberg data show that earnings missed to the downside by an average of 5.9%. On a more positive note, the profit warning story count is much quieter than during the three previous periods.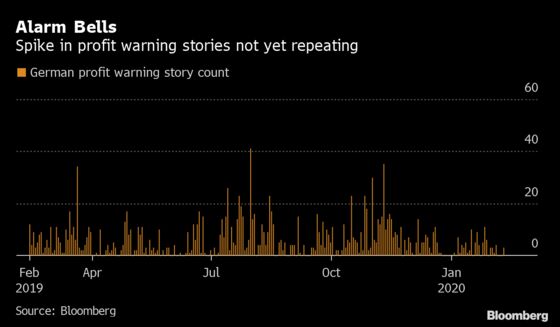 But as a total-return index, the DAX includes dividends, which can be vulnerable -- as luxury-car maker Daimler AG illustrated this week. The recent records for the benchmark look far less impressive when you strip out such payouts. Indeed, the DAX Price Index (DAXK) is still 5% below its 2018 record high and has failed multiple times in recent years to durably overcome its 2000 peak.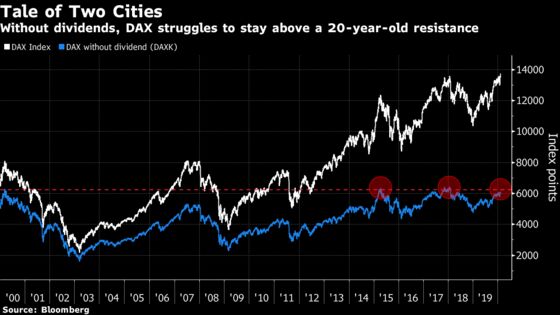 What's more, recession risks are rising. Germany's economy is expected to have grown 0.1% in the fourth quarter, but some economists see a contraction. Given the surprise drop of France and Italy's GDP at the end of 2019, the low expectations suggest there's a limited buffer against the prospects of a downturn.
For Germany the following applies: incoming factory orders are still descending and the indicator for further industrial production planning determined by the OECD is pointing downwards, says VP Bank AG Chief Economist Thomas Gitzel. Both indicators are part of his euro-area recession indicator, which continues to climb.
Then there's the virus. The DAX members generate 20% to 25% of their revenue from emerging markets, according to Barclays Plc strategist Emmanuel Cau, with a large majority from China. The viral outbreak increases downside risks for activity and earnings, with Europe not immune as it is "highly exposed to Chinese demand, supply chains and tourism," he says
While consensus puts earnings growth for the DAX at 13% this year and 12% next year, the bigger problem might be that "companies will again have to revise their outlook repeatedly in 2020," DZ Bank AG strategist Christian Kahler writes in a note.
Within the German gauge, Adidas AG, Infineon Technologies AG and BMW AG are among stocks with the biggest revenue exposure to China. Adidas could be a stock to watch as its supply chain is also heavily exposed, with 27% of factories located in China, while the country accounts for 22% of the group's sales, Mainfirst estimates. Citi cut its forecasts this week, while the shares have barely recovered from their 10% drop since the virus crisis escalated in mid-January.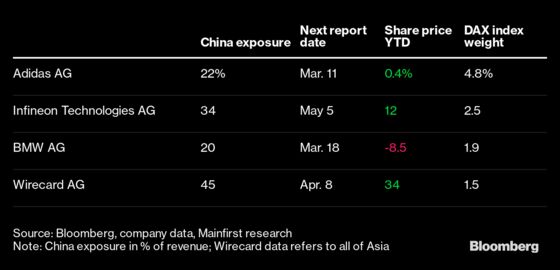 As a consequence, index earnings forecasts could fall, leading to a further rise in valuation, which is already trading above the 15-year average. "Buying shares just because of a perceived lack of alternatives is not recommended," Kahler adds.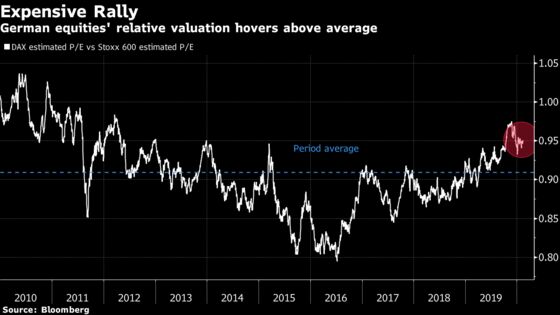 As for the impact on GDP, Deutsche Bank AG economists even forecast a 0.2 percentage point impact on German growth from the coronavirus. Given the current low growth path, it makes a technical recession "absolutely possible," they say.