Germany's Battered Banks Face Another Indignity: Index Ouster
(Bloomberg) -- The two biggest publicly traded banks in Germany -- Deutsche Bank AG and Commerzbank AG -- hold the indignity of being the worst performers among European peers this year. With no reprieve for the shares in sight, they run the risk of an even more unsavory development: relegation from stock benchmarks of which they were once stalwarts.
Commerzbank, a member of Germany's DAX Index since its inception in 1988, is in danger of losing its membership to payments provider Wirecard AG, whose shares have climbed more than 30-fold over the last 10 years as the established player lost more than 90 percent of its value.
Commerzbank -- with a market valuation of just 10.4 billion euros -- is the lowest-ranking member of the 30 companies that comprise the DAX, while Wirecard would place just outside the top 20, making it a potential entry candidate in the quarterly re-balancing in September. With a market value of 21 billion euros, Wirecard has also overtaken Deutsche Bank, which stands at 20.9 billion euros.
Although Deutsche Bank shares have climbed 15 percent from a June low, the bank's position on the Euro Stoxx 50 is also shaky. Germany's biggest bank ranks 53rd in index provider Stoxx Ltd.'s most recent leaderboard, the third-lowest among existing constituents of the euro-area benchmark. Four non-members currently have market valuations among the top 40, which would mean automatic inclusion in the September review, leaving Deutsche Bank as one constituent destined to exit unless its shares rally to a level that puts it fifth-lowest or higher by the Aug. 31 cut-off date.
"This was unthinkable a few years ago," said Stefan Mueller, chief executive officer of DGWA, an investment advisory boutique based in Frankfurt.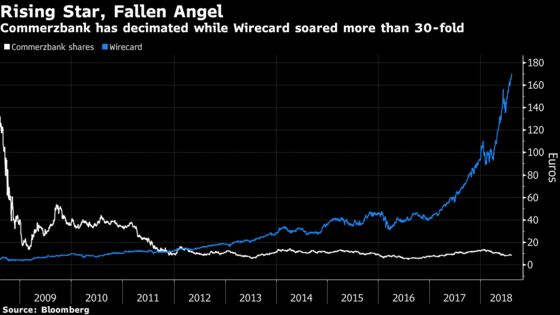 Index analyst Uwe Streich at Landesbank Baden-Wuerttemberg puts Commerzbank's chances of catapulting out of the DAX at higher than 65 percent. He sees a more than 80 percent probability of Deutsche Bank leaving the Euro Stoxx 50.
The potential index exits "tell the story of how far behind the curve German banks are," Andreas Meyer, a portfolio manager at Hamburg-based Aramea Asset Management AG. "While other European banks keep growing, Germany's banks are occupied with themselves, unaware of how the competition is attacking them on their home turf."
Wirecard replacing Commerzbank would demonstrate the current "Zeitgeist" of a shift toward fintechs and digitalization, said Meyer, who holds positions in subordinated bonds of both Frankfurt-based lenders.
For years, systems for processing payments in stores and online were controlled by major banks, credit card issuers and a litter of longstanding IT suppliers. Wirecard is part of a new breed of fintech firms challenging this hegemony, creating more choices for consumers and increasing competition for traditional lenders. But unlike the two big banks, it doesn't channel credit to the economy at large, or turn short-term funds into long-term investment.
Still, Wirecard trades on a more demanding valuation at 57 times its estimated earnings per share for the coming year, compared to 11 times for Commerzbank.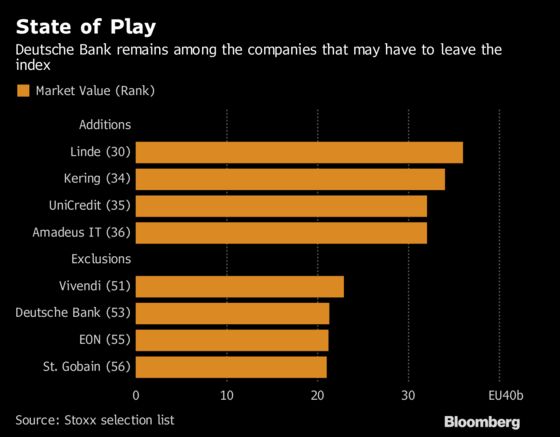 Spokespeople for Deutsche Bank as well as index owners Deutsche Boerse AG and Stoxx declined to comment on scenarios for index inclusion for this story. An official for Wirecard wasn't immediately available for comment. Commerzbank declined to comment beyond remarks by its finance chief, Stephan Engels, who said on a conference call last week that it would be "a pity" if Commerzbank dropped out of DAX but that this "wouldn't change anything" in the bank's relevance for the German economy.
Expulsion would add yet more pressure to the shares, with passive investors in particular forced to sell the stocks as they realign portfolios to the new constituents. Exchange-traded funds with assets of more than 40 billion euros ($46 billion) and 16 billion euros track the Euro Stoxx 50 and the DAX respectively, data compiled by Bloomberg show.
While Wirecard is the only contender for Germany's premier index, the Euro Stoxx 50 may see even more changes in the September review. Linde AG, Kering SA, Amadeus IT Group SA and Unicredit SpA are four companies that stand a good chance of entering the euro-area benchmark, going by current market valuations. By the same token, Cie. de Saint Gobain SA, EON SE and Vivendi SA alongside Deutsche Bank are those threatened with an exit.