Germans Ditched Stocks in 2019, Missing a Rally and Its Dire End
For once, Germans' notorious distrust in equities might just be doing them a favor.
The number of people in Germany who own shares or stock-based funds fell by about 660,000 last year, snapping two years of gains, according to capital markets lobby group Deutsches Aktieninstitut, a lobby group for capital markets. The benchmark DAX index gained 25% in 2019, but fell more than 12% since the novel coronavirus outbreak began rattling European markets.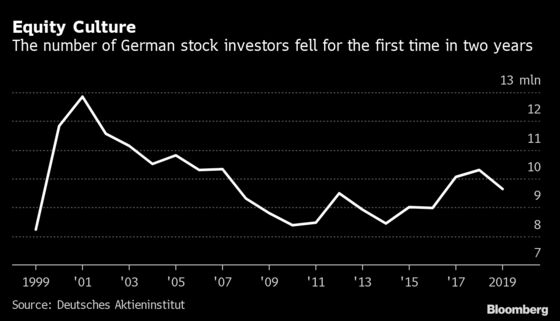 Just 15% of Germans over the age of 14 are now invested in equities, the data show. Investors may have been scared off by stock market losses in 2018 and warnings of a slowing economy, according to Deutsches Aktieninstitut. Germany's push for a tax on financial transactions also did its part to scare off new investors, the group said.
Read more: Derivatives Market Under Threat From New German Tax Legislation