German IPO Rush Signals Listing Window Is Starting to Close
(Bloomberg) -- Fresh European equity listings are popping up almost every day, with German companies leading the charge. But such frenetic activity may not be a good sign.
Among the $59 billion of European initial public offerings announced over the past 12 months, German deals have been the biggest, dominating the sales that exceed $1 billion in size, and far exceeding 2017's tally. Knorr-Bremse AG, the second-biggest IPO of this year, sold shares in the middle of its range this week. And the pipeline remains busy: Volkswagen AG is close to hiring advisers to work on an IPO for its heavy-truck division.
The stream of deals is especially surprising, considering European and German markets haven't been enjoying the best year. Concerns about politics and trade are damping investor appetite for richly-valued offerings and reducing the performance potential of new IPOs. But the answer could be simple: companies -- just like investors -- are worried about the timing of the next recession and market downturn, and are trying to catch what could be the last window.
"This is not a good sign," Michael Woischneck, a portfolio manager at Lampe Asset Management GmbH, said by phone. "We follow this development with concern. Especially, the attitude of some board members looking to cash out on the back of first-time investors without showing reasonable valuations."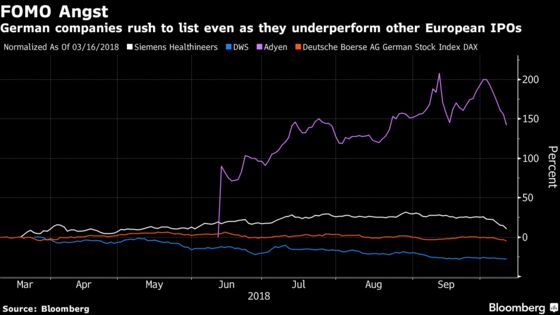 The asset manager DWS Group GmbH & Co. KGaA is down 28 percent since its March debut amid investor outflows. Siemens Healthineers AG, which started trading in March, is up 21 percent since its IPO, a far cry from the 148 percent rally of this year's best-performing Dutch sale Adyen NV.
The line-up of IPOs from Germany could continue, especially with the upcoming restructuring in the auto sector, said Markus Steinbeis, the chief executive officer of asset manager Steinbeis & Haecker. Volkswagen's rival Daimler AG, the world's largest truckmaker by revenue, is adopting a new corporate structure that will grant its truck business more independence, leading investors to speculate about a possible IPO of a minority stake.
"We are a bit wary about IPOs in general," Steinbeis said. "If we are looking at the many mid-cap IPOs I believe the reason for a muted performance is not an IPO-specific one but rather an issue with market sentiment, which deteriorated in the last three to four months."
Another factor helping spur the stream of German IPOs this year is the uncertainty in U.K. markets due to Brexit talks and a smaller number of London listings as a result, according to Guillermo Hernandez Sampere, head of trading at MPPM EK in Eppstein, Germany.
"Overall, there seems to be a certain rush to go public these days and market uncertainty is the main reason," said Hernandez Sampere. "Usually investors don't bother to look in the rearview mirror, but this time it's worth a look as the majority of this year's IPOs were priced very optimistically."
European markets plunged on Thursday and the Dax Index fell 1.4 percent to the lowest level since February 2017 amid concerns that the U.S.-China trade spat will eat into profit growth and that rising bond yields will prompt asset managers to rotate out of equities. The market selloff prompted LeasePlan Corp NV, a Dutch operator of vehicle fleets, to abandon plans for an IPO of up to 7.5 billion euros ($8.8 billion) today.
"As we approach the latter part of the business cycle we will continue to see IPOs coming to the market," said Edward Park, investment director at Brooks Macdonald Asset Management Ltd. in London. "However it is increasingly important that investors demand fair valuations that can survive a downturn in markets."