German Inflation Accelerates as Fuel Prices Add to One-Offs
(Bloomberg) -- Germany's inflation rate accelerated in March to the highest level in nearly two years, driven by a jump in fuel costs that's adding to a range of special factors elevating prices this year.
Consumer prices were up 2% from a year earlier, the country's statistics office said on Tuesday. Inflation in Germany is partly reflecting the expiration of temporary sales-tax cuts, a boost in the country's minimum wage and changes to the composition of the price basket.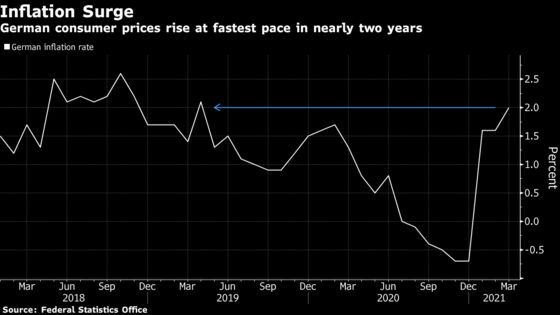 The Bundesbank said in its latest monthly report that higher oil prices will boost inflation further in the coming months. Rates should continue to be elevated in the second half of 2021 after the German government ended tax breaks it implemented last year to stimulate demand.
The European Central Bank expects prices in the euro area to rise as much as 2% this year before inflation falls back to an average of 1.2% in 2022 -- well below the institution's medium-term goal. Officials have said they'll ignore any temporary increases when deciding on monetary policy.
Government bond yields in the euro zone are facing upward pressure in a spillover from the massive stimulus in the U.S., which is expected to push the economy there back to its pre-pandemic size in the coming months. Investors now also see a greater risk that prices could increase faster than anticipated, partly because of large household savings, ECB Executive Board member Isabel Schnabel said last week.
Eurostat is due to release a gauge of inflation in the 19-nation bloc on Wednesday.
Read more...
U.S. INSIGHT: Triple Booster to Rocket 2021 Growth Toward 7.7%