German Autos Hardest Hit in Europe on Trump Threat: Street Wrap
(Bloomberg) -- It's been quite a week for shares of European carmakers. After Tuesday's optimism about China cutting tariffs, the sector slid today on news of an investigation by President Donald Trump's administration into whether car and truck imports threaten national security, which could prompt new tariffs on foreign vehicles.
Europe's Stoxx 600 Automobiles & Parts Index fell 1.3 percent as of 11 a.m. CET, the worst-performing sector on the broader gauge, with BMW AG and Porsche Automobil Holding SE both falling 2.6 percent, Daimler AG down 2.3 percent and Volkswagen AG 1.6 percent lower. In Japan, automakers were the biggest drag on the Topix with Toyota Motor and Honda down 2.8 percent and 3.1 percent, respectively.
Analysts said that German automakers would be the hardest hit in Europe, while Banca Akros noted that the probe may be a tactical move to get a rational deal done on NAFTA. Here's a roundup of what analysts said about the possible impact.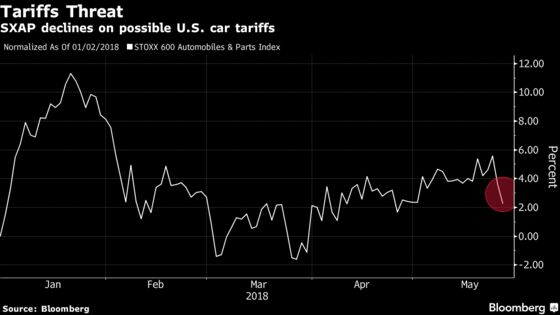 Evercore ISI, Arndt Ellinghorst


U.S. "auto rollercoaster" continues with imports now under scrutiny and more headaches for auto executives.
Evercore ISI's policy team notes there is no plan, per se, to apply tariffs to imported vehicles at this time. The subject is under review and will then take comment, hence "a long way from happening if it indeed does come to pass."
In terms of exposure, BMW and Daimler would be most exposed, with VW "not far behind," mainly though sedans, a segment already under pressure; for smaller producers such as Aston Martin, Jaguar Land Rover, Ferrari -- if not exempt -- any tariff could prove "very costly."
Bloomberg Intelligence, Michael Dean
A U.S. import-tariff increase as a result of a new investigation into whether car and truck imports pose a security threat would hit VW's premium brands Audi and Porsche the hardest. Together with BMW, Mercedes and Mini, these brands accounted for 1.3m vehicles sold in the U.S. in 2017 which were imported from EU.
Banca Akros, Gabriele Gambarova
News potentially negative, even though Gambarova tends to see it as a tactical move to get a rational deal done on NAFTA and put pressure on Mexico and Canada. Mexico exports the most passenger cars to the U.S., followed by Canada, Japan, Germany and South Korea. The NAFTA treaty review could have important consequences for Fiat as it produced ~600k vehicles in Canada and Mexico in 2017, with ~80% of the output then sold in the U.S.
Bankhaus Metzler, Juergen Pieper
Based on initial calculations of the effect of potential 10% duties on top, Pieper projects that OEMs would try to raise prices by the same amount and volumes could fall by up to 20%, as a negative assumption. Considering lower volumes and slightly lower utilization of plants, the effect on earnings would be -4% for VW, -3% for Daimler, -2% for BMW. Notes Conti and Schaeffler could be affected by 3% each as well. "These are quick-and-dirty, quite cautious (negative) assumptions."
Mediobanca, Andrea Balloni
Also sees move as probably aimed at putting pressure on Canada and Mexico to close a new agreement about NAFTA. While it's not clear yet which countries could be affected by the tariffs, brokerage believes news could have a negative impact on the whole sector, adding some volatility to the main carmakers.
Though Fiat has significant production capacity in the U.S., some negative effects may weigh on its production in Mexico and import of Alfa models from Italy.
German parts suppliers are generally less affected by possible tariffs than OEMs; they usually have production in the U.S. and little direct export of parts into the country. Brokerage highlights that even if OEMs shifted car production into the U.S., suppliers would have capabilities to shift their manufacturing to U.S. sites.