GE Options Investors Make Small Bets on Big Post-Earnings Move
(Bloomberg) -- There's not a lot of hedging going on around General Electric Corp.'s third-quarter earnings, but options investors who have taken positions are betting on an outsize move after tomorrow morning's report.
Options prices currently imply a post-earnings move of more than 10 percent. That compares with an average 2.5 percent change in the share price after each of the last eight earnings releases, with declines outnumbering gains 6-to-2. While tomorrow's expected move is larger, options bets being made to coincide with the earnings only make up about 4 percent of the total open interest.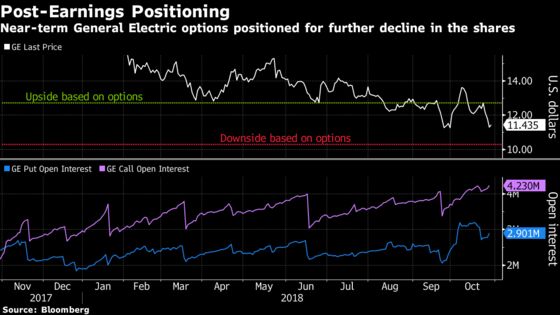 Implied volatility remains elevated at around 115, versus 90-day historical volatility at 35. Put options expiring Nov. 2 outnumber call options by 3.4-to-1, suggesting investors expect further downside after the earnings report.