Gasoline Optimism Hit With Virus Spreading Across the Sunbelt
(Bloomberg) -- Gasoline futures tumbled the most in two months on Wednesday as markets plunged, with investors growing anxious about the resurgence in virus cases that could hamper demand and the broader economic recovery.
Prices plummeted 8% after data showed Florida set another daily record for new cases, and Texas's governor said the state is dealing with a "massive outbreak."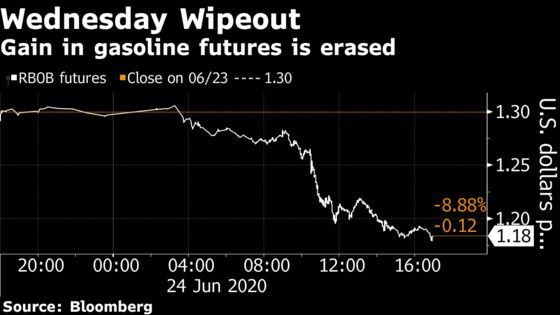 The price drop came even after the Energy Information Administration reported what appeared to be bullish data for fuel demand. Stockpiles declined for the second straight week and gasoline supplied on a four-week average basis increased for the eighth consecutive week.
Interest in RBOB drove volatility in that market up the most since April, as traders who had purchased contracts below $1 a gallon in April and May sought to sell and capture those profits before the end of the second quarter.