GameStop Suffers Worst Decline in Eight Months on Dim Outlook
(Bloomberg) -- GameStop Corp. shares fell the most in eight months after the struggling video-game retailer cut its forecast, suggesting that the holiday season will be worse then expected.
The dim outlook sent the stock tumbling as much as 13 percent to $12.80 on Friday, marking the worst intraday swoon since March.
The tumble extends a roller-coaster year for GameStop, which faces a decaying core business. With more consumers downloading games on their devices, there's less need to visit a brick-and-mortar store. But investors have been betting that a suitor, such as a private equity firm, will swoop in and buy the company.
GameStop gave shareholders cause for hope on that front: It's not immediately looking to bring on a new permanent CEO while it pursues strategic alternatives, the company said on Thursday. That signals "the strategic review may result in a sale," Jefferies LLC analyst Stephanie Wissink said in note.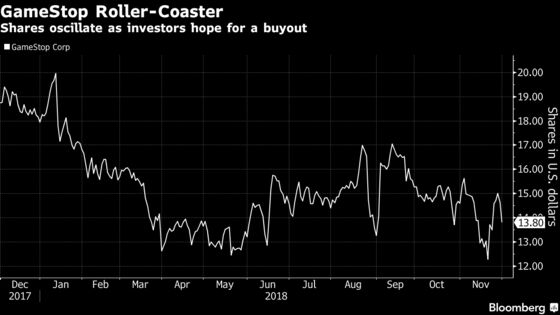 The Grapevine, Texas-based company also said this month that it was selling its AT&T wireless stores for $700 million, exiting a business that was supposed to help diversify the company during a video-game slump. Without that division, a leveraged buyout of GameStop is now more practical.
Wedbush Securities Inc. analyst Michael Pachter said he expects a private-equity sale is "imminent."
For now, though, GameStop's struggles are weighing on the stock. The company said on Thursday that it expects earnings of no more than $2.75 a share this fiscal year, excluding some items. It had previously given a range as high as $3.35. GameStop blamed poorer-performing titles and weaker sales of used games for hurting its outlook during the holiday season.
The company also was hit with the surprise departure of Chief Executive Officer Michael Mauler in May. The board briefly appointed Daniel DeMatteo, GameStop's 70-year-old co-founder, to run the business while it searched for a new leader. Later that month, it named board member Shane Kim, a former Microsoft Corp. executive, to the interim CEO job.
GameStop said on Thursday that it continues to talk to third parties about a possible sale. Still, investors have been losing hope in recent months that a takeover is close. Even before Friday's tumble, the shares were down 18 percent this year.
Over the years, GameStop has relied on buybacks to keep investors happy. The company has repurchased over $1.5 billion of its shares since 2011, an amount equal to its current market value.