GameStop Roller-Coaster Hits Bump as Trading Volume Dries Up
(Bloomberg) -- GameStop Corp. tumbled the most in more than a month as expectations for a wave of stimulus-led stock purchases fizzled.
Shares of the video-game seller took a sharp turn around 11:15 a.m. in New York before extending losses by 17% to close at $220.14, the biggest drop since Feb. 4. The choppy trading after recent gains leaked over to some fellow retail favorites like headphone maker Koss Corp. and mobile phone company BlackBerry Ltd.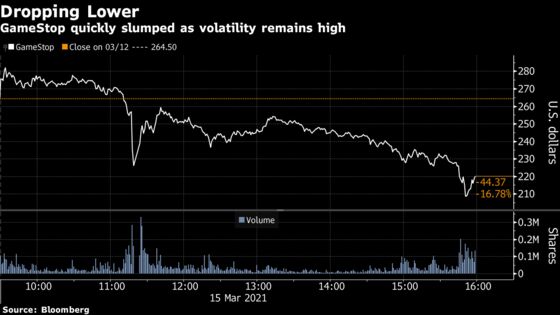 Trading for Reddit favorites was far from uniform on Monday with movie theater company AMC Entertainment Holdings Inc. soaring after plans to open its California locations, while clothing company Express Inc. jumped to the highest level since January. Wall Street had been bracing for a flurry of trading from individual investors who were flush with $1,400 payments as a result of the $1.9 trillion pandemic-relief bill.
Lower volume was the theme of the day for GameStop and a handful of others that were stuck in the red Monday. Just over 23 million shares changed hands, roughly half what's been typical in the past week. Grapevine, Texas-based GameStop is due to report quarterly results after the market close on March 23.