GameStop Is Creating Problems in Sleepy World of Index Following
(Bloomberg) -- The Reddit-spurred market madness is spreading to even the most placid corners of the passive world.
A more than 400% rally in GameStop Corp. this week is ramping up the company's weighting in retail indexes. That's unbalancing usually predictable exchange-traded funds from the likes of State Street Corp. and Invesco Ltd., and prompting a warning from analysts at Citigroup Inc.
In the starkest example, GameStop ended Wednesday as almost 20% of the SPDR S&P Retail ETF (ticker XRT). That fund follows an equal-weighted index with 95 names -- the video game retailer's weighting should be more like 1%.
Citi analysts said the skewed allocations "may significantly change fund performance and use case suitability until rebalance dates."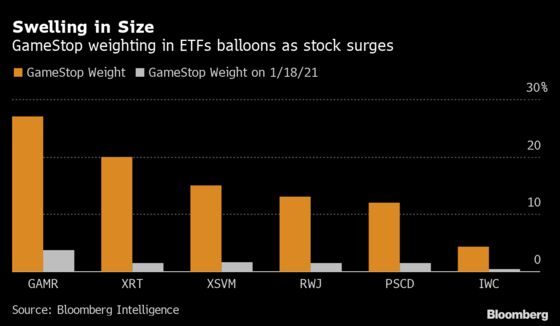 One of the big selling points for most ETFs is relative stability, but the day-trader frenzy is reminding investors that keeping a portfolio steady is no sure-thing in times like this. Even broad ETFs are ultimately at the mercy of gyrations in the stocks that underlie their strategies.
"GameStop's rapid surge to large-cap status -- driven by retail traders in the WallStreetBets group on Reddit squeezing hedge-fund shorts -- means the stock may take over some ETFs temporarily until the battle dies down or the funds rebalance," Bloomberg Intelligence analysts Eric Balchunas and Athanasios Psarofagis wrote in a report Wednesday. "The move highlights that diversification is important and that active investors drive the market."
GameStop's weighting in the Wedbush ETFMG Video Game Tech ETF (GAMR) went from 3.7% last week to more than 27% on Wednesday. The video gamer retailer is also now the top holding in the Invesco S&P SmallCap 600 Revenue ETF (RWJ) at nearly 13%, versus less than 2% last week.
Fueling the boom is an army of message-board traders that are hunting some of Wall Street's most-hated shares to spur a short squeeze in the hedge-fund industry. It's rocking investors with bearish bets including Citron Research and Melvin Capital -- and making it harder for ETFs live up to equal-weighted labels.
If nothing changes, then when it comes time to rebalance -- XTR, GAMR and RWJ track gauges that are next due to adjust in March -- these funds will be forced to unload large amounts of GameStop shares, potentially creating heavy selling pressure. However, it's also possible that GameStop's rally could evaporate as quickly as it took off, bringing the stock's weighting back to less-extreme levels.
For now, some ETF investors are taking advantage of the boost this has given to prices. XRT is up more than 20% this week, and on Wednesday saw its second-biggest outflow on record as more than $500 million exited the fund.
According to the team at Citi, all the drama may impact its use as a portfolio hedging tool.
"XRT is often used as a hedging tool, as reflected in its short interest levels," Citigroup analysts including Scott Chronert wrote in a note Wednesday. "Near term, the fund's viability for that use case may be altered given the high GameStop allocation."
Despite the distortions, State Street's Matt Bartolini reckons the GameStop drama underscores the value of an equal-cap weighted approach in sector-specific funds.
"If you're starting to get more narrow in your focus, then the weighting methodology can start to have an impact," Bartolini, head of SPDR Americas Research, said in a phone interview. "GameStop has had a significant rise and has had an impact on the underlying portfolio, but not to the degree if it was the largest security in a market-cap weighted setting."