AMC Share Gains Evaporate as Reddit-Driven Rally Fizzles
(Bloomberg) -- AMC Entertainment Holdings Inc. and some other day-trader favorites saw their rallies fizzle at the start of the week as investors shifted their focus to other parts of the stock market.
After gaining as much as 30% earlier on Monday, AMC shares ended the session little changed and then tumbled as much as 17% in extended trading. The movie-theater chain, which has been hurt by Covid-related closures, gained 525% in January after announcing fresh financing that will help it avoid bankruptcy. BlackBerry Ltd., meanwhile, closed 3.8% higher at the end of a volatile session that featured a 20% swing in prices. The software maker fell 7% postmarket.
Monday's volatile session came as the silver market was roiled after a now-removed post appeared on Reddit's WallStreetBets forum that encouraged traders to pile into BlackRock Inc.'s iShares Silver Trust. Shares of U.S. and Canadian listed silver companies also surged.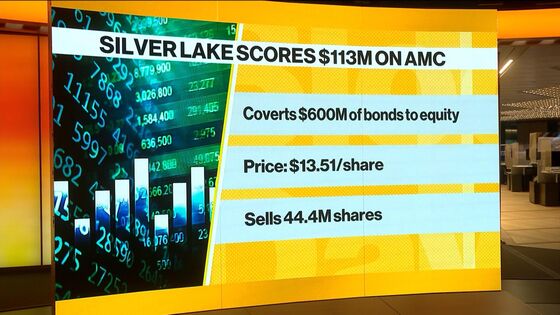 GameStop Corp., the most high-profile target of the Reddit forums, fell 31% Monday and extended its decline by as much as 23% after-hours. The video-game retailer surged 1,625% last month, propelled by day traders who inflicted multibillion-dollar losses on hedge funds with large short positions. Short interest in GameStop tumbled to 53% of its float from 140% last month, according to data from S3 Partners.
The struggles for Reddit-favored names on Monday sparked some debate across Wall Street as analysts and investors questioned the future of retail-driven rallies.
"The social media retailed-frenzy trading party could be slowly ending," Edward Moya, senior market analyst at OANDA, wrote. "Like all good roller coaster rides, they all come to an end."
Robinhood Markets Inc. further eased trading limits on some stocks Monday afternoon, informing customers that they could purchase more shares of firms like GameStop and AMC. On Sunday, it had removed restrictions on 42 others.
Clients can now buy a maximum of 20 shares in GameStop, and as many as 350 in AMC. The popular trading app put buying limits in place last week after its clearinghouse deposit requirements for equities increased. Other brokerages including Morgan Stanley's E*Trade also eased restrictions.
The restrictions held the number of shares traded for the Grapevine, Texas-based video game retailer in check while AMC volume took off. About 34 million GameStop shares were traded while AMC's volume was at 413 million - the lowest for both stocks in at least a week.
Other retail darlings like Healthier Choices Management, which trades at fractions of a penny, soared as more than 3 billion shares changed hands and Nokia Corp. rose as much as 9.4%.
Read more: Koss, Express Among Reddit Favorites Sliding as Silver Gains
AMC shares gained a new bear before the market opened on Monday when the movie theater chain was downgraded to sell from neutral by MKM Partners. Analyst Eric Handler cut the stock and halved his price target to $1, saying that current share prices are almost double the industry's historical peak.
"The emotion behind the #SaveAMC movement could carry the shares higher in the near-term, but we believe this valuation-be-damned momentum is not sustainable over the long term," he wrote.
The attention of the retail speculators shifted over the weekend to commodities such as silver, which broke above $30 an ounce.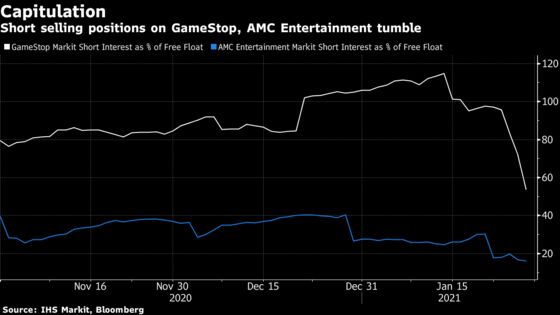 European-listed silver miners surged, with Fresnillo Plc rising 9% and Hochschild Mining Plc climbing 10%. U.S.-listed peers also skyrocketed, with Coeur Mining Inc. up 23%, Hecla Mining Co. jumping 28% and First Majestic Silver Corp. adding 22%.