Game Maker Pops 400%—And It's Not Because of Crypto This Time
(Bloomberg) -- For small-cap Chinese video game developer The9 Limited, the last decade has been a wild ride -- and for investors or those just sitting back and watching, the story turned yet another page on Friday.
The latest twist in The9's saga came this morning when one of its co-founders and former Chief Operating Officer, Jie Qin, reported a nine-million-share stake, sending shares soaring. The Shanghai-based company surged more than five-fold in early U.S. trading after the disclosure was filed.
The catch for any long-term holders, however, is that the shares are still worth a fraction of levels seen a decade ago.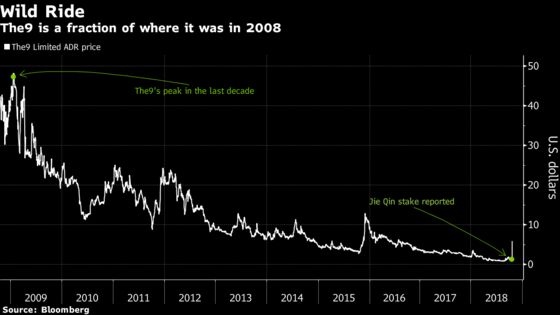 Back in 2008, American-depository receipts for the thinly-traded stock touched $80 compared to Thursday's close at $1.57. The9 reached a peak valuation of more than $1.26 billion more than a decade ago, compared to recent valuations around $50 million to $60 million in recent weeks.
Traders who were caught holding The9 at its 2018 peak in January may remember a subsidiary's plans to provide blockchain technology for Gingkoo Technology Co. Or further back in the company's history when its co-founder and chief executive officer Zhu Jun reported a 37 percent active stake in 2015.
While little has played out from Jun's purchase over the three years since, Jun still holds 23 percent of shares, Bloomberg data show. Qin's entry means the pair of co-founders hold close to a third of the company's equity.