GAM CEO Struggles to Stabilize Firm After $18 Billion Outflows
(Bloomberg) -- GAM Holding AG investors aren't buying Chief Executive Officer Alex Friedman's promise to stabilize the troubled Swiss asset manager after outflows accelerated and the firm said it may take months to give an update on its strategic priorities.
The Zurich-based firm's assets tumbled by a fifth in its main investment management business as star manager Tim Haywood's suspension sent investors fleeing. GAM shares declined as much 22 percent, the most in more than nine years, and traded almost 17 percent lower at 2:34 p.m. local time.
The third-quarter numbers provide the first comprehensive account of the fallout at GAM, which on Tuesday reiterated that it's exploring options to maximize shareholder value. Assets in investment management fell 21 percent from the end of June, to 66.8 billion francs ($67 billion). The company has lost more than half of its market value this year, prompting it to review spending and investment.
"The consequences of the suspension of an ARBF investment director marked a clear setback for GAM," Chief Executive Officer Alex Friedman said in a statement. "We are taking immediate and near-term measures to support GAM's profitability."
See the full TOPLive blog on GAM's trading update here
The asset manager, spun off from Julius Baer Group Ltd. in 2009, is fighting to retain clients and contain the damage from the suspension of bond manager Haywood over allegations of lapses in risk management and record keeping. The company has held informal talks with potential buyers for all or part of the business as it explores options to stabilize the firm, people familiar with the discussions told Bloomberg earlier this month. The firm said it will update on its strategic priorities by its full-year results on Feb. 21, declining to give more information.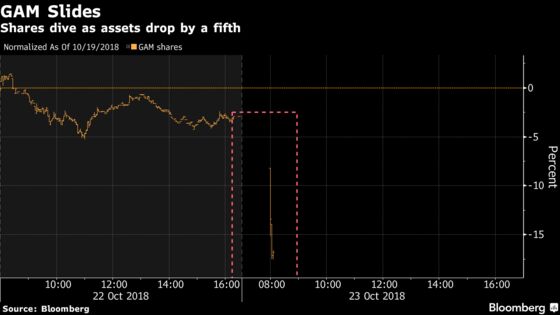 Here is a breakdown of numbers disclosed by GAM on Tuesday:
Assets in Haywood's funds slumped by 10.8 billion francs
Investors pulled another 5.3 billion francs from funds not related to Haywood
Currency swings reduced assets in investment management by 1.4 billion francs
Group assets under management, which include GAM's private labeling business, fell by 11 percent to 146.1 billion francs
Vontobel Holding analyst Andreas Venditti said investment management outflows were below his estimates, with outflows from funds unrelated to Haywood's strategies higher than expected. Citigroup Inc. analysts Haley Tam and Owen Jones also wrote that the scale and spread of outflows at GAM was worse than expected.
Haywood's suspension couldn't have come at a worse time for the money manager, which is already being buffeted by headwinds in the asset management industry. Volatile returns and an investor flight to low-fee products have squeezed profits, forcing many money managers to consolidate.
Several firms in the past year have sought acquisitions or mergers for scale to survive and grow. Invesco Ltd. this month agreed to pay about $5.7 billion to acquire OppenheimerFunds, and last year, two money-management giants merged to create Standard Life Aberdeen Plc.
GAM said outflows slowed in October, though it warned that the "more challenging market conditions" since the second quarter will continue through the end of the year. GAM's Hugh Scott-Barrett, chairman of the board, said Tuesday the firm continues to "review all avenues to optimize shareholder value."
Friedman, in an interview Tuesday, declined to comment on any strategic talks, saying the firm is focused on stabilizing core business after outflows, and managing liquidations from the Haywood funds.